Browse Multimedia & Design : 1-50 oldest programs
Display by: Popularity | Title | Newest | Oldest
1) Eltima SWF to FLA Converter for MacOS 1.1
Convert Flash into FLA format in one click with SWF to FLA Converter for Mac. In expert mode there are over 50 options to customize Fla timeline and resulting file workspace, group objects into libraries, adjust ActionScript conversion settings, etc.

---
2) Flash to Video Batch Converter 3.1
Convert Flash swf and flv movies to video in a batch. Flash To Video Bach Converter lets you easily transform any Flash SWF and FLV files to video movie file. Advanced users able to use Console version for consversion on server side or in your batchs

---
3) Winflick 1.0
Designed to manage modern video collections and play the latest media formats. Search, sort, browse, categorize, print, import, export, share and view video information anyway you want.

---
4) Dydelf 1.01
Simple tool for spicing up ordinary images, digital photos etc. Program uses outline posterization technique to create snazzy-looking effects.

---
5) PDF2TIFF Pilot 1.03
Convert PDF files to Tiff with PDF2TIFF Pilot. The program allows you to produce multipage TIFF files. 1, 4, 8 or 24-bit and grayscale palette formats are supported. Full command line and batch mode, compression methods are supported too.

---
---
6) Easy TV [RP] 2.6
Easy TV is a software which brings live and recorded television at your desktop. With Easy TV, you can easily manage these stations and add TV station of your choice. Viewing online TV was never so easy.

---
7) AMS Photo Studio 2.21
AMS Photo Studio is a powerful and easy to use application for image viewing and manipulation. The program is ideal for working with digital photos. It allows to add picture frames. The work with layers is supported, print with preview is available.

---
8) Easy Batch Watermark 2.8
The program can batch add watermark to multi-images easily. in addition ,the program can set the image's hue,saturation and brightness to enhance the image,add shadow to the watermark,free to set the watermark's position and transparence .

---
9) DVD to VCD AVI DivX Converter 3.2.69
DVD to VCD AVI DivX Converter can Convert DVD to VCD; Convert DVD to SVCD; Convert DVD to AVI; Convert VOB to MPEG; Convert VOB to AVI.

---
10) VuPic 3.2
VuPic is a full featured viewer for JPG/BMP/TIF files which allows you to view, zoom, resize, rotate, crop, correct, and print (1 to 9 per page) the files. You can also create a Picture File or a Thumbnail Album File.

---
---
11) Boomer Audio 5.0
Add streaming audio to your web pages that works at 56Kbps. Convert your WAV and MP3 files seamlessly just drag and drop them into Boomer Audio and convert to Flash.

---
12) Instant ThumbView 1.8.6
Instant ThumbView is a tiny image viewer that displays image thumbnails in a tooltip window when mouse pointer is hovered over an image file in Windows Explorer. It supports a lot of popular image file formats, including BMP, GIF, JPEG and so on.

---
13) Internal CADviewer 4.2
INTERNAL CADVIEWER is FREE DWG viewer for AutoCAD. With this AutoCAD add-on you can browse, view or open drawings stored on your computer or CD-ROM(e.g. DWG catalouges).

---
14) MP3 EasySplitter 2.04
Split your MP3 files into smaller, playable segments without losing any sound quality.

---
15) GeigerScript-C-PC 2.0
...the one and only type face that looks like it has been written by hand. The GeigerScript-C - type face looks very clearly and is easily and quickly to read. The GeigerScript-C - type face is an excellent piece of equipment.

---
16) PDF Slideshow 1.0
Create PDF files with your photos and pictures as Slideshow. If you open the file in Acrobat Reader you don't get a static view to your photos but you will see your photos as slideshow.

---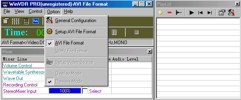 17) WinVDR(divx/wmv/mpg/mp4 vcr) 3.7.0
WinVDR Real Time divx/wmv/mpg/mp4 vcr,Request TV Tuner/BT878 Card VFW/WDM Driver,Video Capture Recorder Compatible with Win98/Win2000/WinXP,Optimized by MMX/SSE assemble code,Useful Mixer & Playlist Included.

---

18) Quick Flash Player 1.2
Quick Flash Player is a stand-alone flash player that enables Flash Users to quickly browse the SWF files.It offers a variety of playback capabilities including full screen mode.

---
19) AURELIO 1.2
The world's first photo and 3Dstereo image viewer that makes use of your vga card's hardware capabilities which enables you for the first time on PC to apply image effects and control their intensity dynamically by mouse wheel or keyboard.

---

20) P3dO Explorer 1.8
Easy-to-use Explorer-ish Photo and 3D image viewer supporting all popular images files formats. It features selectable thumbnail image size, tile mode, slideshow, zoom, image print, mass renaming, zip through browsing, plugins and more

---
21) Easy Icon Maker 3.0
ICON Maker is a small and easy-to-use icon editing program. It allows you editing a transparent or opaque icon. It supports different colors and sizes. It also includes icon tools: Icon Changer , Icon Searcher , and Icon Extractor .

---
22) myBatchConverter
has ability to convert MPEG1, MPEG2, VCD-PAL, VCD-NTSC, SVCD-PAL, SVCD-NTSC, DVD-PAL, DVD-NTSC in a Batch Mode. has ability to convert different kinds of video files at the same time. has ability to select VBR/CBR mode in MPEG file.

---
23) Ai Picture Utility 8.0.1.8089
Speedy viewer and image album manages, plays, edits, enhances photos. Database queries. Organize by visual content. Unique smoothing + sharpening filters. Slideshows w/ 173 effects. Variable prints. Batch convert, rename, move, unzip ...

---
24) Ameri-Imager 2.0
Powerful all-in-one solution for image editing, conversion, viewing, and much more. Over 60 image, animation, and video formats are supported. Advanced features include batch format conversion; thumbnailing; screen capture, slideshow, and much more

---
25) Ulead Photo Explorer 8
Ulead Photo Explorer 8 provides an efficient way to transfer, browse, modify and distribute digital media. It is the all-in-one tool for owners of digital cameras, WebCams, DV camcorders, scanners or anyone who strives to handle digital media.

---
26) HPGL Import for Surfcam 1.0
HPGL Import for Surfcam is a plug-in for Surfcam. This plug-in gives Surfcam the ability to import graphical data from HPGL Plot (PLT) files.

---
27) ImageM8 6.30
ImageM8 is a complete, self contained, image management system for Windows. It combines an image catalog system with screen capture, graphics multi clipboard, image editor, image mixer and photo CD maker. A unique combo to manage all your images.

---
28) NC Import for AutoCAD 1.0
NC Import for AutoCAD is a plug-in for AutoCAD 2000, 2000i, 2002 and 2004. This plug-in gives AutoCAD the ability to import Numeric Control files.

---
29) WinDVD Creator 2 Gold 1.0
Create your own movies with WinDVD Creator Gold 2. This truly integrated product is the fastest and easiest DVD-making program letting you make high-quality DVDs in a fraction of the time many others do.

---
30) Slide Librarian Pro 2.40
Excellent database program for cataloguing your slide collection. Include slide thumbnails and full-sized images in the database - see all your slides on your PC. Prepare slideshows, talks and lectures using the light table. Lending library version.

---
31) Matrix Revolutions International Trailer
In the third installment of the "Matrix" film franchise, Neo, Trinity and Morpheus resume their battle against the Machine.

---

32) CammyPlus 1.9
Plug in your digital camera and immediately copy your photos to your PC, display the pictures in full screen, and rapidly edit with ease. The user-friendly interface provides the best overview of your photos in full screen even in thumbnail view.

---
33) WireFusion Professional 4.1
WireFusion is a professional authoring tool for interactive plugin-free Web3D presentations. Flash is supported and can be combined with 3D models. Add-ons for MPEG video, MP3 sound, Zoom function and more are available.

---
34) Cleanerzoomer 1.01
Cleanerzoomer is able to remove virtually any kind of artifacts from any image: JPEG blockiness and fringes (ringing), photo noise, hot pixels, etc. Also it is able to enlarge images with outstanding sharpness and a very natural look.

---
35) Trans Lucy 1.0
Trans Lucy is a DVD player that lets users float the video display above other applications and adjust the translucency so they can see and work with documents "behind-the-scenes."

---
36) Canvas GIS Mapping Edition (Mac) 9.0.4
CANVAS 9 GIS Mapping Edition includes direct support for Geographic Information System data. You can take measurements in geographic coordinates, import SHAPE & GeoTIFF files into unlimited numbers of automatically aligned overlapping layers.

---
37) Quill 3D 1
Quill3D a 3D modelling program, ideal for games development. Lots of features including UV Mapper, Map builder, Texturewrapping, Mesh Builder, Lightmapping and more.Can import .3ds, .x, .b3d, .lwo and export .b3d, .x and Quill Primscript format.

---
38) HPGL Import for Rhino 1.0
HPGL Import for Rhino is a plug-in for Rhino. This plug-in gives Rhino the ability to import graphical data from HPGL Plot (PLT) files.

---
39) Makaha 6.1.1
Professional graphic-video viewer, can view the most popular graphic formats, create thumbnails, has a 100 option slide show with videos and MP3 music, creates GIF animations of any size, Batch convert to over 40 formats.

---
40) i.Vista WideShot 1.0
i.Vista wideshot is a tool that automatically combines consecutively taken scenery photos and convert it in to a high-resolution wide-view image

---
41) Font-Effects 2.0
Text creation tool that produces graphics for use in presentations and on the Web. You can deform the text and use textures. Use shadow and edge effects to make the text look fantastic! You can also add a border and a background texture.

---
42) Pixeur 1.1.0.1
Ever have the need to extract a color from another application? Curious about the colors used in something you see on the computer screen? Then Pixeur is the application for you.

---
43) Pie Chart Builder 1.22
Pie Chart Builder is a simple yet powerful utility for rapid creation of an eye-candy pie-charts. It may be useful for those who needs to visualize financial, scientific or other type of data.

---
44) QuickTime 6.4
One of the most popular applications for enjoying multimedia on your PC.

---
45) FlipAlbum Standard 5.5
FlipAlbum automatically creates 3D page flipping photo albums complete with thumbnails indexes and table of contents

---
46) Photo Album v6.0.5
Easily organize images & photos on your PC. Present as thumbnails, presentations or slide shows. Make unlimited number of CDs. Email any photo, print albums, rotate photos, make screen savers. Search, sort and shoebox features. Download full version

---
47) CDI 5.2
CDI is a portable photo viewer, featured with thumbnail lists, full-screen view, slide show, background music, print page design. Supports CD auto-run, removable media such as Flash disks.

---
48) PhotoCleaner Basic 3.3
PhotoCleaner is a one-click tool for enhancing digital photos: cropping, red eye, correcting levels, colors, contrast; sharpening, adding frame and caption. The settings can be adjusted to your preference. PRO version also includes batch processing.

---
49) Favo Audio Editor 5.0
Favo Audio Editor is a visual multifunctional audio files editor which allow you to perform various operations with audio file such as editing, converting, creating, and recording audio files, applying various audio effects, filtering and more!

---
50) DVDMagic 1.03
DVD Magic is a very useful utility to make your DVD player (WinDVD, PowerDVD etc.) and/or DVD copy/backup software (InterVideo DVDCopy etc.) restriction-free.

---


Browse Pages: |< 1 [2] [3] [4] [5] » >|
Top Downloads for all categories