Browse Word Processing - Business & Finance : 1-50 programs listed after popularity
Display by: Popularity | Title | Newest | Oldest
1) ABC Amber Visio Converter 1.04
An advanced utility which converts your VSD (MS Visio) files to any format you wish (PDF, HTML, CHM, RTF, HLP, DOC, and many more) easily and quickly. The software supports a batch conversion, a run from command line, more than 50 languages.

---

2) Star Fax Cover Sheet Creator 2.25
Most companies have a standard fax cover sheet, that is copied over and over, then everyone just hand writes it out and faxes it out. This does not portray a very professional imagage. Multiple User capabilities. All in one easy to use package

---
3) WinFax PRO Macro for Word XP/2000/2003 1.10
Now you send faxes directly from Microsoft Word XP/2000/2002/2003 using WinFax PRO. You can also send mail merge faxes using your fax database. You get a fax icon on your toolbar and menu for one-click faxing. Faxing & merging has never been easier.

---
4) TextMaker for Linux 2002
If you want your word processor (a) to provide all the features of a modern high-end word processor, (b) to seamlessly read and write Microsoft Word documents, and (c) to be available on multiple platforms, look no further: TextMaker is here!

---
5) Business Letter Professional 6.3
Best letter-making software for marketing managers, home businesses, consultants, accountants, secretaries, customer service, HR managers, and CEOs. Includes more than 1000 typical business letter templates.

---
6) PDF Compress 1.00
Compress PDF files and reduce the actual size of PDF files by compressing text and graphics. Compressed PDF files can be opened and viewed normally by Adobe Acrobat Reader all versions.

---
---
7) CHM2HTML Pilot 1.00
Convert CHM into a set of HTML files using CHM2HTML Pilot. The program supports command line. Using batch mode, you can convert several documents simultaneously. The program has Explorer-like interface.

---
8) Nice PDF Creator 3.02
Nice PDF Creator enables you to precisely convert Microsoft Word, Excel, PowerPoint document and PostScript file to Adobe PDF document with active hyperlinks and full bookmarks. To create PDF files can be as simple as clicking a button of your mouse.

---
9) WordPerfect Quick Fix Writing Tools Disabled 1.0
WordPerfect Quick Fix writing tools disabled, Grammatik, Spell Check, Thesaurus, Spell-As-You-Go may be disabled, greyed out or not working properly. This program fixes the WordPerfect writing tools

---

10) TxtEdit 4.5.2
TxtEdit is an editor for text or Rich text files. It includes a spell checker. TxtEdit contains a "send to" - feature, which is useful to have a quick view on many different file formats.

---
11) Convert DOC to PDF For Word 3.50
Convert DOC to PDF For Word is a Word plugin that convert DOC to PDF, Word document to PDF automatically.

---
---
12) Fast Folder Rename 1.5
Fast Folder Rename allows you to rename multiple folders at once (first of its kind!) just by dragging and dropping from an explorer window. Options include changing of first letter to uppercase, all letters to uppercase/lowercase and more!

---
13) PDF2DOCExpress: PDF to Word Converter 2.0
PDF to Word Converter converts PDF documents to Microsoft Word .DOC, and .RTF file formats, and plain text file. It also extracts images from PDF documents.

---
14) WordPerfect Converter - WP2DOC 2.0
Corel WordPerfect, document converter, convert WordPerfect to Word, convert, wpd to doc, convert Corel WordPerfect document, to Microsoft Word, WordPerfect converter, convert multiple documents or just one document. Requies WordPerfect installed

---
15) NJStar Chinese WP 5.30
NJStar Chinese Word Processor reads, writes, edits and print Chinese text on normal English or western Windows. It also includes a powerful English-Chinese/Chinese-English bi-directional dictionary for instant dictionary lookup.

---
16) Image To PDF Command Line 3.3
Image To PDF can directly convert dozens of image formats, such as TIF, JPG, GIF, PNG, BMP, PSD, WMF, EMF, PDF, PCX, PIC and so on, into PDF format.

---
17) 3A PDF to Word Batch Converter 2.0
3A PDF to Word Batch Converter is the fast, affordable way to convert PDF document to the popular Word file format, Its easy-to-use interface allows you to create Word files from PDF documents by simply few clicks.

---
18) PCL to PDF Converter command line 2.0
PCL to PDF Converter is an easy-to-use end-user wizard for creating or manipulating Adobe Acrobat PDF format files, It does not need the third part software support, quickly convert PCL print files, and vector graphics to searchable PDF.

---
19) Liquid Story Binder 7.21
Liquid Story Binder is a program designed for writers, novelists, and poets. It allows you to view your documents easily. It gives you the freedom to create while protecting your work. It is more than just your typical word processor.

---
20) CZ-Doc2Pdf 2.0
Create PDF, batch PDF converter that convert word DOC to PDF, html to PDF, text to PDF and RTF to PDF

---
21) TextMaker for Windows 2006
If you want your word processor (a) to provide all the features of a modern high-end word processor, (b) to seamlessly read and write Microsoft Word documents, and (c) to be available on multiple platforms, look no further: TextMaker is here!

---
22) KKopy 1.05
Award winning clever copy, cut and paste tool for Microsoft Word that selects sections of text in one click. A valuable time saving tool which compliments the standard Word Copy and Cut tools.

---
23) PDF to Word Converter Pro 7.0.1.1
PDF to Word Converter Pro converts PDF documents to Microsoft Word .DOC, DOCX, .XML and .RTF file formats, and plain text file. It also extracts images from PDF documents.

---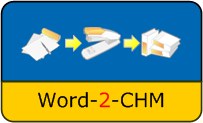 24) Word-2-CHM Converter 3.0.1.167
Word-2-CHM is a tool that can convert your Word documents into CHM help or CHM e-book. You can create CHM file easily without any HTML or CHM skills. Just prepare your Word document, and the CHM file will be created in seconds with a mouse click.

---
25) DOC to Jpeg/Jpg/Tiff/Bmps converter 2.0
Convert Word DOC RTF to Jpeg/Jpg/Tiff/Bmp/Eps/Ps, DOC to Image converter.

---
26) Convert XLS to PDF For Excel 3.50
Convert XLS to PDF For Excel is a Excel Addin that convert XLS to PDF, Excel document to PDF automatically.

---
27) The Abacus 3.0
Use Abacus to count lines in any MS Word document. Abacus will count gross lines, lines as a number of characters per line, or lines of highlighted text. It will then record the line counts in a log file for invoicing.

---
28) AnyCount 3
AnyCount produces automatic word counts, character counts, line counts, and page counts for all common file formats. Supports .DOC, .RTF, .XLS, .PPT, .PPS, .HTM, .CSV, .PDF, .TXT, .ZIP formats, characters with spaces, characters without spaces.

---
29) PolyEdit 5.0
PolyEdit is both a word processor and a plain text editor that is designed to satisfy the most demanding requirements.

---
30) MagicPDF 2.0
MagicPDF is the free version of commercial PDF creation software MagicPDF Pro. MagicPDF has all the most frequently used functionalities of Adobe Acrobat, as far as PDF creation and conversion is concerned. MagicPDF installs itself as a virtual print

---
31) AnyForm Forms Software 5.0
AnyForm® form software - creates new forms and fills out paper, preprinted and even PDF forms on PC easily

---
32) Text to PDF Pro 3.0
Txt2PDF is a text convert tool that can convert text to PDF format. For example, convert your text reports into PDF documents for easier presentation, emailing, and sharing over the internet.

---
33) BaKoMa TeX 7.50
BaKoMa TeX with TeX Word - True WYSIWYG LaTeX Editor. BaKoMa TeX includes dual IDE: True WYSIWYG LaTeX Editor - TeXWord and Classical IDE - Text Editor + DVI Viewer.

---
34) Speed Typing 1.40
Type a word and get an entire letter automatically typed for you! In the Speed Typing database, you can place more than 100 000 messages, standard phrases, signatures, email addresses, URLs, etc. The program will work with any text editor.

---
35) Hermetic Word Frequency Counter 5.95
This software scans a file, or text on the clipboard, and counts the number of occurrences of different words. The text can be in a language other than English. The words which are found and displayed can be ordered alphabetically or by frequency.

---
36) WordPerfect 10 Backup Customized Settings 1.0
This program is for people have customized WordPerfect 10 (2002) and need to backup these customizations and restore them.

---
37) Crazy Writer 2.0 Standard 2.0
A magic tool package to generate funny novels and deal with documents with templates! It provides you with Language Master and Template Star, which has intelligent power to generate funny novels & will be your good assistant in documentary work.

---
38) Graphcat 5.4
Graphcat Clip Art Cataloger-32 bit v5.4 Clip art & photo cataloger for WordPerfect 7 to 12 and X3. Includes CD-ROM support, page size selection, extension hiding, directory searching, uses all graphics formats supported by WordPerfect.

---
39) WDReportGen 3.4.3
WDReportGen is a report generator for Microsoft Word that outputs reports in Microsoft Word document format. If you know how to use Microsoft Word and write SQL statements, you can use WDReportGen to create all kinds of reports as you need.

---

40) Convert PPT to PDF For PowerPoint 3.50
Convert PPT to PDF For PowerPoint is a PowerPoint plugin that convert PPT to PDF, PowerPoint document to PDF automatically.

---
41) CZ-Ppt2Jpg 1.0
CZ-Ppt2Jpg is a batch ppt converter that convert microsoft powerpoint documents to jpg files. you can convert a lot of ppt files once time, saving your time! Key Features

---
42) PDF-to-HTML 1.0
PDF-to-HTML is a program to convert Adobe PDF documents into HTML format with a minimum loss of formatting information.

---
43) Fore Words Pro 1.1.0.20
Add-in to Microsoft Word, contains 2 useful tools. (1)Repetyler - finds all repetitions of words and phrases in your MS Word document. (2)K-Diff Search - performs approximate search with given number of differences.

---
44) NotePads+ 3.04
Notepads+ is a free replacement for the Windows notepad. Set as the default Windows notepad, click on Options|Set as Default, and edit your text files in style. And the best part, NotePads+ is free. Download it once and use it for a lifetime.

---
45) ABC Amber XML Converter 5.01
ABC Amber XML Converter is a powerful XML/XSL processor which converts your XML documents into any document format (PDF, HTML, RTF, TXT ANSI, TXT Unicode, DOC, MCW, WRI, WPD, WK4, WPS, SAM, RFT, WSD, and more) easily and quickly.

---
46) AutoSplit Plug-in for Adobe Acrobat 1.6
Adobe Acrobat plug-in that is designed for advanced splitting and content extraction from PDF documents. Split PDF documents into multiple files by bookmarks, page count, page text, blank pages, page ranges and element content.

---
47) Text to PDF 1.10
Convert your ASCII text files, for example, your text reports into PDF documents for easier presentation, emailing, and sharing over the internet. You can custom the font type and size for the PDF file, set the PDF file page layout and margin values,

---
48) CZ-Doc2Htm COM 2.0
batch html converter that convert doc to html, rtf to html and text to html, it can be called from VB, VC, DELPHI.

---
49) CZ-Pdf2Txt COM 1.0
COM object that batch convert pdf to text, It can be called from VB, VC, DELPHI.

---
50) ! Oops ! 1.01
Ever typed for 20 minutes just to lose your work when your system crashes? - It needn't happen again!Oops! takes snapshots of your work and saves them to disk so that you can recover them in the event of a program or system crash.

---


Browse Pages: |< 1 [2] [3] [4] [5] >> >|
Top Downloads for all categories