Browse Backup & Restore - System Utilities : 101-150 programs listed after popularity
Display by: Popularity | Title | Newest | Oldest
101) Macrium Reflect Free Edition 4.2
The fastest disk imaging software is now available as a free edition. A complete disaster recovery solution for your home and office. Protect your personal documents, photos, music and emails. Upgrade your hard disk or try new operating systems.

---

102) Vista Partition Data Recovery Software 3.0.1.5
Vista partition file recovery tools easily restore corrupted and damaged data official file and important documents from accidentally damaged, virus attack, hardware failure and software malfunction affected Windows based removable hard drive.

---
103) ! Hard Drive Mechanic 2009.144
HARD DRIVE MECHANIC - Hard Drive Repair, Data Recovery and Diagnostics Software. THE HARD DRIVE MECHANIC is the ONLY Hard Drive Recovery Software designed so anyone can get their PC Hard Drive back up and running in minutes!

---
104) File Backup Watcher Professional 2.8.29.10
Manual and semi-automated backup systems are as effective as using a screwdriver for driving nails into wood. Presenting File Backup Watcher, the unique fully automated backup system intended to save the day! Download your free evaluation copy now!

---
105) DriveImage XML 1.00
Backup logical drives and partitions, create hot images, restore & browse drive images, copy or clone one drive to another, extract, view and recover files from a backup, explore and process XML image file

---
106) Sneaky Clean 3.133
Sneaky Clean is a powerful new software program that combats prying eyes and preserves your right to privacy. Sneaky Clean quickly and professionally deep cleans your computer of 'sensitive material', leaving you with a clean, like new PC.

---
---
107) Prompt Drivers Backup 1.5
Backup, restore and update all device drivers currently on your system Prompt Drivers Backup enables fast and easy detection, backup or restore of all hardware device drivers currently on your system.

---
108) C-Photo Recovery 2.61
Recover deleted pictures and restore corrupted photographs. Power Search technology scans your entire hard drive or memory card. All popular image formats are supported. Your pictures can be recovered even if you shoot RAW with a digital SLR!

---
109) 1st NTFS Recovery 2.58.7
Fixing broken NTFS partitions and recovering lost data has never been easier! NTFS Recovery carefully scans your partitions, gathering as much information about your files and data as possible, and reconstructs damaged files and system structures.

---
110) Dell Inspiron 6400 Drivers 2.1
A driver restore disk works with a Windows Vista disk to restore your Dell Inspiron 6400 back to the original factory setup. Once windows has installed you put this disk into the drive as soon as windows gives you a found new hardware dialog box.

---
111) File Backup Watcher Lite Edition 2.8.29.11
Manual and semi-automated backup systems are as effective as using a screwdriver for driving nails into wood. Presenting File Backup Watcher, the unique fully automated backup system intended to save the day! Download your free evaluation copy now!

---
---
112) Image for DOS 2.67a
Image for DOS is a reliable and easy to use drive imaging software package. It supports any partition type including FAT, FAT32, NTFS, EXT2/3, Reiser, and XFS. Supports USB2, IEEE1394, eSATA, ATAPI CD and DVD drives without the need for drivers.

---
113) Final Data Enterprise 1.0
Data Recovery Utility tool.

---
114) File Backup Watcher Professional 3 3.0.2
Manual and semi-automated backup systems are as effective as using a screwdriver for driving nails into wood. Presenting File Backup Watcher, the unique fully automated backup system intended to save the day! Download your free evaluation copy now!

---
115) Backup2007 Synchronizer 6.7.317
Backup2007 synchronizes computers, disks and folders. Files can be copied, compressed and or encrypted. With the Incrmental mode synchronization is done at the light speed. Built using Office 2007 look and feel. Includes a disk partition function.

---
116) Power Data Recovery - Personal License 3.2.46
A risk-free Data Recovery utility that recovers all important data lost after accidental format, virus, file/directory deletion, or even a sabotage! Recover data from a hard drive, camera card, USB, Zip, floppy disk or other media.

---
117) Sync2S3 1.1.5
Sync2S3 synchronizes your files with the Amazon Simple Storage Service (S3), providing you with a secure and affordable backup solution.

---
118) System Optimizer for Mac 2008.526
Mac Optimizer has over 350 features to enhance Mac OS X, and is ideal for novice and pro users alike. Mac Pilot is your digital savior. Easily enable and disable hidden features in Mac OS X, optimize and repair your system with the click of a button!

---
119) Unistal DBX to NSF Converter 1.0
Unistal DBX to NSF Converter is an Advanced DBX to NSF Conversion utility to convert DBX files of Outlook Express to NSF files of Lotus Notes.

---
120) MrG File Encryption 2.0
Encrypt your privacy files,got a key,no need to remember your password.

---
121) BackRex Office Backup 1.1
Backup MS Office settings such as custom toolbars, dictionaries, etc., Outlook, Outlook Express mail folders, personal address books, filters, and user settings. In addition, Internet Explorer custom settings and favorites are also backed up.

---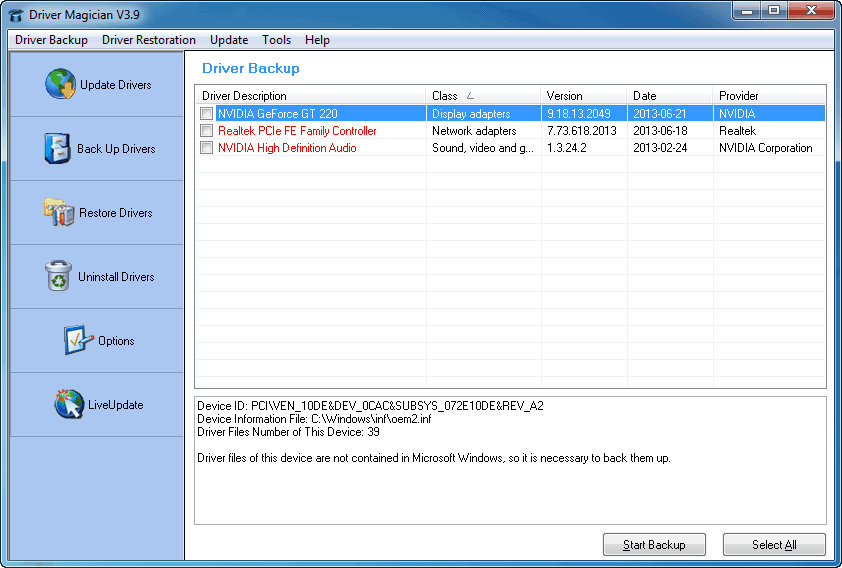 122) Driver Magician 3.48
Driver Magician helps you back up, restore, update and uninstall device drivers of your computer. it can also detect unknown devices of your computer.

---
123) RestoreIT Data Backup Utility 7
RestoreIT 7 automatically backs up all files on a system to a protected partition on your hard drive or to an external device, and will still launch and recover your data even when Windows does not boot.

---
124) Dobry Backuper 1.4
Mac backup software that creates full, versioned, and incremental backups. It creates tar-compatible backup archives and includes scheduling tools, on-the-fly compression, and backup to any mounted device, including CD/DVD and network volumes.

---

125) Pro Duo Memory Stick Files Recovery Tool 3.0.1.5
TransFlash card recovery utility salvage lost corrupted formatted digital pictures photo images audio video mp3 songs clips text message mobile phone games from SDHC memory card, SD card, XD memory card, smart media and secure digital card etc.

---
126) ABC Backup 5.50
This backup program allows you to copy, upload, download data automatically on schedule from your PC to various storages - network disks, remote FTP servers, etc. The program can either mirror your data "as is" or create archived files for copying

---
127) 12Ghosts Backup 8.10
Keep every change of your documents while you are working on them! Automatically store changed versions in an archive folder and apply a smart filter to keep versions of all ages.

---
128) e-Backup 1.42
With e-Backup you can backup, restore and transfer your valuable Outlook Express data, Windows Address Book and Internet Explorer Favorites.

---
129) GrandBackup Business 1.4
Automatically copy essential documents and other important files and folders to a reserve location on the same drive, another drive, or across the network. You set up Tasks that describe the source, destination, and the backup schedule.

---
130) Vembu StoreGrid Backup Software - Free Edition 2.0
Vembu StoreGrid is an extremely flexible feature packed Backup Software that works with your existing hardware. StoreGrid can facilitate intranet, client-server & remote backups and is ideal for Home networks, SOHOs, SMBs, and IT Service Providers

---
131) Urgent Backup 3.50
Urgent Backup offers a quick, step-by-step wizard to walk you through backup and restore tasks. It helps you to create backups at various different compression levels, automatically backups data on schedule to local disks, network drives, FTP servers

---
132) FinalData Enterprise Network 2.0
Final Data is a world-class Data Recovery Utility tool that recovers quickly and effectively files that may have been accidentally deleted or erased, damaged or emptied from the Recycle Bin.

---
133) Handy Backup Full 6.9.6
Handy Backup Full is an automatic file backup, disk imaging and hot database backup software. Supports backup to DVD/CD, FTP/SFTP, LAN or Online with scheduler, ZIP and encryption. Can run as service under Windows 7/Vista/XP/2000 and 2008/2003 Server

---

134) SoftAmbulance Uneraser 4.81
Undelete and recover files deleted from hard disks, USB drives and flash memory drives reliably and automatically with SoftAmbulance Uneraser. The recovery tool is simple and easy to use, yet packs sophisticated data recovery technologies.

---
135) Backup E-mail 1.0
Backup E-mail uses an easy wizard interface to backup everything from Microsoft Outlook, Outlook Express, Eudora Pro & Light, Netscape Messenger, Netscape Mail, Opera, IncrediMail, Pegasus Mail, TheBat, and PocoMail. Just click and you're done!

---
136) Lomsel Backup 1.20
Lomsel Backup helps you to protect all important data on your computer. Easy usage of this program means that even beginners can backup.

---
137) DoubleSafety 4.3
DoubleSafety is a program for automatic data backup. You can store backups on your hard drive or use a local area network, send them to an FTP server or write to a CD/DVD or Blu-Ray/HD-DVD. Just try DoubleSafety and get 30 days of joyous security.

---
138) GrandBackup Ultimate 1.2
GrandBackup provides an intuitive interface for rapid creation of backup tasks. Tasks can be executed automatically on different events, including folder contents change, file/folder renaming, detecting an external disk, and according to a schedule.

---
139) Outlook Express Backup Restore 2.365
Backup your Outlook Express and restore it including identities, message rules, email accounts, preferences, blocked sender lists, signatures, Windows Address Book, Favorites and My Documents. Transfer your data between different computers.

---
140) AK One-click BackUp for WinRAR 2.10b1
Now you can easily backup your documents with WinRAR 3.0-3.40. It takes just one click! You can run numberless presets via internal schedulers. Tons of useful features available!

---
141) Crashed Drive Mechanic 2009.135
The Mechanic Hard Drive Recovery Software. Easily locate and recover hard drive crashes with FAT32 drives, NTFS drives, corrupted partitions, invalid drive specifications, disk boot failures, and boot sector problems. 100% Money Back Guarantee!

---
142) Undelete It! 4.33
Undelete It! is a wizard based file recovery tool. It allows you to restore a file in two clicks. It supports FAT/NTFS/CDFS/UDF file systems and has an advanced sorting system. The Deep Search feature allows you to locate files by their signatures.

---
143) File Uneraser 1.66.2
RaidLabs File Uneraser unerases files which were deleted, including documents, pictures, mp3 and zip files, folders and even damaged disks. The program scans a target drive absolutely automatically and selects the right solution for file unerase.

---
144) Second Backup 2006.8
Automatic file backup utility run as windows service. Simple and easy. can archive multiple versions backed up copies for different time . Can direct only copy the new or modified file. Automatic send e-mail to report the backup status.

---
145) Selkie IT Edition 3.5.0
Need to save time and want to save money? Selkie IT Edition, a powerful data migration and recovery tool for technicians, will do both. This flexible software is simple and secure, and it will help you to recover customer's or coworkers files fast.

---
146) DataMirror 1.5
DataMirror - easily backup, synchronize, or restore your files to another drive, networked drive, or removable media. DataMirror is a software that helps you backup and synchronize files with another drive.

---
147) File ArchiveRescue Professional 3.0
Recovery tool for deleted ZIP, RAR and many other archive formats. With support of any storage medium is very easy to use and shows excellent recovery rate.

---
148) R-Drive Image 4.7
Drive image and backup software to create exact image of a hard drive, partition or logical disk. Drive image files can be created with various compression levels without stopping Windows and stored in a variety of places, including removable media.

---
149) EZ Backup Adobe Premiere Pro 6.1
EZ Backup Adobe Premiere Pro makes it easy to backup your Adobe Premiere files to a local drive, network folder, CD/DVD and even to a remote FTP server!

---
150) DFIncBackup Home 2.97
This is a personal backup program for incremental backup of files to zip archives. One archive can contain several root folders from different disk volumes and any subfolder can be tuned separately. Program has built-in CD/DVD burner and scheduler.

---


Browse Pages: |< << [1] [2] 3 [4] [5] [6] [7] >> >|
Top Downloads for all categories