Browse Text & Docment Editors - System Utilities : 1-50 programs listed after popularity
Display by: Popularity | Title | Newest | Oldest
1) Hex Editor 3.12
Hex Editor Software - Binary and Hex file editing tool for Windows with Multi-Window, Multi-Document Interface, Text Viewer, Advanced Search and Replace features. Edit your Exe Code, Hex Dump, Avi, Mpeg, Jpeg and other files with HHD HexEditor.

---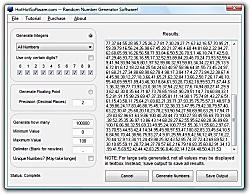 2) Random Number Generator to create random number sequences software, random integers and random floating point numbers Software! 2.0
Random Number Generator to create random number sequences software, random integers and random floating point numbers!

---
3) Remove (Delete, Replace) Text, Spaces & Characters From Files Software 7.0
Remove content from one or many files. Remove or replace character(s). Find and replace character(s). Remove spaces, enters and tabs. Remove alpha, numeric, alpha-numeric or non-alpha-numeric character(s).

---
4) Find and Replace In Multiple Text Files Software 7.0
Replace multiple occurrences of text in one or many files.

---
5) Split Text Files Into Multiple Files Software 7.0
Split one or many text or HTML files into smaller files by number of lines or by character content such as comma, space or comma-space.

---
6) Text Viewer and Editor 2 2.5
Program can edit the text. It can paste symbols from the character list. It can copy, cut and paste any symbol(s). It can find text in your document too. It also counts symbols and lines in your text. Program has Quick Menu for quick select the item.

---
---
7) EditPad Lite 7.1.1
EditPad Lite is a convenient, carefully designed text editor and Notepad replacement. It has all the features a solid text editor needs without any bloat. Tabbed interface for opening many files at once. No arbitrary file size limit.

---

8) #1 Smart PDF Creator 8.5
This software you will allow you to convert DOC, XLS, HTML and more to PDF format. It features easy to comprehend user interface, batch conversion, a great set of advanced options, step by step instructions and works on all Windows systems.

---

9) #1 Smart PDF Converter 9.4
The software can convert your PDFs to several easy to edit file formats. HTML, DOC, RTF, XLS, JPEG, TIFF, TXT. All you need to do is to load your PDF file into the program, set an output format and press the Convert button.

---

10) #1 Smart PDF Converter Pro 9.4
Smart PDF Converter Pro will let you convert your PDFs to several formats : HTML, DOC, RTF, XLS, JPEG, TIFF and TXT. After you have converted your PDFs, you can easily edit them and convert them back to PDF with just one click.

---
11) febooti fileTweak Hex Editor 1.0
Edit files either in hex or ascii mode in precise way to in order to preserve original layout of the file without shifting file contents. Integrated into windows properties pages Hex Editor is easily accessible and has intuitively obvious interface.

---
---
12) EmEditor Text Editor Professional 12.0.0
EmEditor Professional, a lightweight text editor for Windows, supports Unicode, large files, scriptable macros, plug-ins, syntax highlighting, powerful tab features, drag-and-drop, and much more. Streamlined for efficiency. Compatible with Windows 8.

---
13) PowerGREP 4.3.2
Quickly search through large numbers of files on your PC or network using powerful text patterns to find exactly the information you want. Search and replace with plain text or regular expressions to maintain web sites, source code, reports, ...

---
14) Orneta Task Manager for Smartphone 2002 0.1.1
Orneta Task Manager is a system tool that enables management of the running applications on Windows Mobile based Smartphone's. Windows Mobile Smartphone doesn't come with a way to manage running tasks, instead they are managed by the system.

---
15) Orneta FTP for Pocket PC 2003 1.0.3
Orneta FTP is a FTP Client for Windows Mobile based Smartphone's and Pocket PC's. By transferring files of any size to and from any remote FTP server in the background, your time is spent productively. Fast, efficient and reliable uploads & downloads

---
16) NoteTab Pro 6.2
A leading-edge, award-winning text and HTML editor. Handle huge files with ease, convert text to HTML, build document templates and take charge of your code. Fully extensible, with a powerful scripting language to meet the needs of the serious user.

---
17) Jarte 3.0
Jarte is a tabbed word processor incorporating Microsoft's reliable, fast starting WordPad word processing engine. Jarte adds many features missing from WordPad and creates documents compatible with Word. Jarte can be run from a USB flash drive.

---
18) Cygnus Hex Editor FREE EDITION 1.00
This is the freeware version of the Cygnus Hex Editor. This is the fastest and easiest hex editor available anywhere! Features include MDI interface, multi-level undo & redo, extensive drag & drop support, blazing fast search and replace, much more.

---
19) EditPad Pro BR 5.4.6
EditPad Pro is a powerful yet easy to use syntax coloring text and hexadecimal editor. It has a convenient tabbed interface, with many powerful features that will make your task of editing text files (source code, HTML, whatever) easy.

---
20) Orneta Notepad for Smartphone 2003 2.0.2
Text editor for Windows Mobile based Smartphone's that can view or send text as multiple SMS messages or as e- mail attachments. Support for search, cut, copy, paste, delete, undo, use font of any size, recent file list, file associations, and more.

---
21) Compare Two Lists For Matches Software 7.0
Load two text files and keep only matches in both. Save results as a text file.

---
22) MyLife Notebook & DB Utilities 6.1
Assortment of handy utility programs. It has Notebook, Notes diary, quick sticky notes, text editor, spreadsheet list, a flexible easy database, database viewer -editor, file viewer, pic editor, Win utilities, World Info & unit conversion prgms.

---
23) EmEditor Text Editor Free 6.00.4
EmEditor Text Editor Free is a free text editor for Windows that fully supports Unicode, enabling you to edit multiple languages. Designed for Windows XP and Windows Vista.

---
24) NoteTab Light 6.2
The ultimate free Notepad replacement and a handy HTML editor. Handle a heap of files with a simple tabbed interface. Search files, strip HTML tags and format text quickly. Use macros and collect text clips automatically on a paste board.

---
25) Hex Comparison 5.1142
A binary file comparison and hex editor. Help you to compare files in binary format, serving as a hex editor. Allow compare two files and find every different easily.Save comparison to file. Find synchronous position by double click [ exeicon.com ].

---
26) Pocket Text Editor 1.3
This is simple multipage pocket text editor. It does not add any formating to your text files. This helps you safely edit any plain text files. For example, text, XML, and configuration settings files. This program requires .NET Pocket framework.

---
27) Archivarius 3000 4.58
Archivarius 3000 is a full-featured application to search documents and e-mails on the desktop computer, your LAN and removable drives (CD, DVD), with quick review and documents printing tools, remote searching and accessing via the Internet.

---
28) Advanced PDF to TEXT converter 1.9.1
PDF to TEXT converter effortlessly extract text information from your PDF files, preserving the original multi-column page layout. You can take advantage of the batch conversion utility to process several PDF files at once.

---
29) AlfaPad Notes Organizer 2011
AlfaPad Notes Organizer uses an intuitive, double-paned Explorer-like interface to allow hierarchical storage of information. It supports global search, tagging, flagging and coloring items, snippets (quick templates), auto-save and auto-backup.

---
30) Doc Convertor 1.0.0
Quickly and easily print and convert your documents with Doc Convertor (30+ formats supported). Convert your documents to PDF, Excel, images and more!

---
31) 1 - Awesome Church Directory Software 1.0
This church management software serves the information needs of churches. Discover the efficiency of a well-designed photo directory software to link family, individual and visitor information (Name, Address, Dates, etc.) along with pictures

---
32) NoteMagic 6.10.16.1
Ever wonder why such a wimpy text editor shipped with Windows? Why Notepad has no features? Well, wonderno more and download NoteMagic Lite, integrated FREE text management for Windows.

---

33) Mass File Editor 2.2.0
Text operations engine to process many files routinely from a user supplied list. Searches the regular expressions, maintains the data stack of what was found and allows composing new data from it, edits all files without users attention required.

---
34) Orneta Go for Smartphone 2002 1.0.1
Orneta Go is the classic game of Go for your Windows Mobile based Smartphone. The game of Go was originally created in China between 3,000 and 4,000 years ago. Go is the oldest game that is still played in its original form. Played by millions.

---
35) RQ Search and Replace 1.84
Find and replace text in files and MSWord and HTML documents - a (multi-line) text, whole words. Special for HTML tags and attributes. Replace, delete, insert .. operations. Search in headersfooters, hyperlinks, text frames in MSWord documents.

---
36) BDV Notepad 5.0
It is comfortable text editor, Windows Notepad replacement. In this program are combined: extended functionality, comfortable interface, flexible adjustment and all of this is absolutely free-of-charge!

---
37) ScratchPad 1.5
ScratchPad is a a simple yet powerful notes-taking utility for Windows that resides in your system tray while not in use.

---
38) EmEditor Free 6.00.2
EmEditor is a free text editor for Windows that fully supports Unicode, enabling you to edit multiple languages. Designed for Windows XP.

---
39) Phone Scan --- Search Info Any Number! 7.11
Reverse Phone Number Lookup. Get instant information on any phone, mobile cell phone, business, pager, pay phone and even unlisted numbers. Are you able to search for E-Mail Addresses? At this time, we do not offer a reverse e-mail address search.

---
40) Perfect Uninstaller Glance Software 1.54
Perfect Uninstaller is a better and easier way for you to completely uninstall any unwanted application that standard Windows Add/Remove Program can't remove. Have you ever been bothered with software applications that can't be uninstalled?!?!

---
41) WordConvs Free 1.0
This document conversion program allows batch conversion of documents using the converters included in Microsoft Word or an external program. The input and output formats are configurable.

---
42) m9P Editor Plus 1.0
This complete rich text editor builds rich text executables using DERT. You can use it as rich text to web page or text to PDF converter. Also, Text To Speech is supported. A unique solution that combines advanced features into a fun to use program.

---
43) EmEditor Professional 6.00.2
EmEditor Professional is a text editor for windows supporting macros using JavaScript or VBScript, Unicode, plug-ins, regular-expression search, find or replace in files, syntax highlighting, powerful tab feature, and more. Designed for Windows XP.

---

44) TED Notepad 4.5.2
Light-weight plain-text editor with many hotkeys, clipboards and inovative features, all for quick, easy and advanced editing. Fits on a floppy or USB and loads instantly with no installation required.

---
45) EControl Syntax Editor 2.50
Powerful text Uniocde editor with syntax highlighting, text folding, text structure tree view... The unique and more important feature is 100% customizable lexer, so you can adjust it for any type of text file. Fast working even with huge files.

---
46) LandlordBG.co.uk Font Viewer 1.0
LandlordBG.co.uk Font Viewer app is a small tool showing information foron fonts, ASCI, ANSI codes, character tables etc. The applicaton was developed for the LandlordBG.co.uk bulgarian properties real estate agency who agreed to share it free.

---

47) #1 Smart PDF Creator Pro 8.4
Easy and fast conversion from DOC, XLS, HTML, JPEG, TIFF, TXT and RTF to PDF and vice versa. This program offers user friendly interface, batch conversion, flexible advanced options and step by step instructions. It will run on all Windows systems.

---

48) DocPad 4.0
DocPad is a plain text editor with many advantages over Notepad: bookmarks, case conversion, file history, jump to line, jump to offset, keyboard macros, print preview, search and replace, spell check, variable pitch font, and much more.

---
49) 010 Editor 3.2
010 Editor is a professional text/hex editor designed to edit any file, drive, or process on your machine. Use our unique Binary Templates technology to understand any binary file format. Includes a whole range of powerful analysis and editing tools.

---
50) EmEditor Standard 6.00.2
EmEditor is a text editor for Windows that fully supports Unicode, enabling you to edit multiple languages. Designed for Windows XP.

---


Browse Pages: |< 1 [2] [3] [4] >> >|
Top Downloads for all categories