Browse Automation Tools - System Utilities : 51-100 programs listed after popularity
Display by: Popularity | Title | Newest | Oldest
51) Optitask 2.0.4
Optitask is easy to use task automation software. With this program you can automate even the most complex processes in no time. Download a trial today and see for yourself how much this package will benefit your business.

---
52) RebootEx 2.13
Advanced system utility for Windows NT/2000/XP operating systems that allows you to automatically shutdown, power off, remotely shut down, shutdown at a specific time, reboot and/or relogon to your computer.

---
53) Heated Keyboard 1.0
Hot key manager for Windows

---
54) HSLAB Shutdown Folder Lite 2.0.4
"It's missing from Windows!" HSLAB Shutdown Folder is a utility which provides a service similar to the Windows 9x/NT/2000/XP "Startup" folder. It launches applications, command files(*.bat,*.cmd) and symbolic links placed into a "Shutdown Folder"

---

55) Access RS232 devices over Bluetooth V3.0D
BlueConsole is a Bluetooth Serial Adapter that provides true wireless Bluetooth access to conventional RS232 ports. Using BlueConsole with Bill-Redirect Software, enables Bluetooth RS232 device to communicate with your Windows programs

---
56) Fast Sync 1.1.0
What do you do the moment when you connect your Palm Powered handheld to desktop computer? Almost always you first of all synchronize new data with it. Install Fast Sync utility and your data will be synchronized automatically!

---
---
57) BlazingTools Smart Type Assistant 1.5
System-wide typing automation tool. Includes abbreviation expanding, mistype correction, pasting the long text fragments with one click, Clipboard History, fast screen capturing and emailing, many useful hotkeys, keyboard scoring and more!

---
58) syncNETV8 8.1.1937
sync.NETV ist eine auf dem .NET-Framework 1.1 basierende BackUpSoftware. Es wird bei diesem System das Ziel gegen die Quelle synchronisiert.

---

59) AutoIntern 1.0.72
Go beyond Windows limited built-in scheduler. Unique features: named calendars, schedule multiple times per day (up to 127!), "exception scheduling" (rules when NOT to run jobs), keystroke recorder and more!

---

60) AutoMe 5.50
AutoMe is a reliable and user-friendly windows automation software and macro recorder with task scheduler, color checker. AutoMe is very easy to use, you can record robot, and run it as many time as needed. No programing needed.

---
61) MouseRobot 2.1
MouseRobot is an outstanding macro utility and alternative to macroses written in VBA that will greatly facilitate your daily work. Versatile, easy to use and flexible - what else would you want from a great automation tool?

---
---
62) File Monitor 3.7
File Monitor takes a lot of manual work off your hands by constantly monitoring folders for the creation of new files. When a new file is detected, a custom action can be carried out. Files are processed only when completely written.

---
63) Schedule 3.5.34
Schedule is a user friendly and dependable automation task scheduler used by major corporations worldwide. Schedule provides all the tools you need to automate your repetitive and / or complex tasks.

---
64) RemindMe 2.1.0
RemindMe is the schedule ANYTHING software, from running tasks, to pizza timers, to acting like an alarm clock RemindMe will handle your software scheduling needs.

---

65) Event Manager Professional 3.29
Take local automation to new heights with application scheduling, file manipulation, on and offsite backkups, ftp, http and email notification combined with redundant scheduling and NT Service integration.

---
66) 12Ghosts ShutDown 8.11
Shut down with one click or with one key stroke. Run scan disk and backup programs programs, daily or at certain days of the week. Just one click, then leave your computer and it will power-off automatically after all programs finished.

---
67) NestLib v16.0
NestLibĀ® is a nesting software for optimizing material utilization while fitting two-dimensional shapes on a larger sheet.

---
68) Undelete File Recovery 2012.17
Undelete file recovery software provides real-time data protection that allows to recover deleted files instantly - exactly as the files were the instant they were deleted. It can even recover earlier versions of Microsoft Word, Excel and PowerPoint.

---
69) BytesRoad SafeLauncher 1.5
The main intent of SafeLauncher is to run any Windows application under specified user account. Thus, you may run the required application under the restricted account while still working under the account which belongs to the administrators group.

---
70) AutoDialogs 2.7
Using AutoDialogs, you can automatically insert pre-selected folders into your dialog boxes using a system tray menu (requires only 2 clicks) or pre-assigned hot key (one keystroke). No longer need dozens of mouse clicks to navigate to your folders

---
71) Workspace Macro Pro - Automation Edition 6.5
Automate & schedule tasks easily. Reliable macro program & Windows automation software with task scheduler. Record keyboard & mouse, use the macro editor or create macros using pre-defined macro templates. Easy to use macro recorder & windows macro.

---
72) RoboSetup 2.1
Automatic software installation of any complexity, including inserting your data into installation dialog boxes automatically. Using RoboSetup you can create a disk with an AutoRun shell, which will install software automatically.

---
73) Automize 10.06
Easy to use Automation software and task scheduler with scripting; Automate FTP, secure FTP, FTP daemon and monitor, web downloads through proxy or secured websites, check or send email, task chains; Run 1000+ tasks a day.

---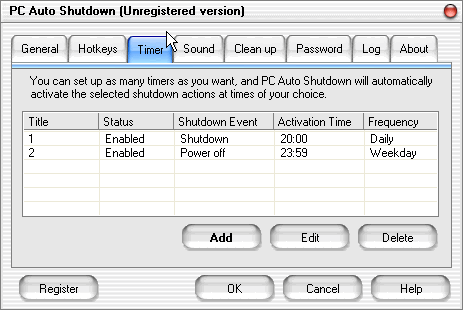 74) PC Auto Shutdown 3.95
PC Auto Shutdown is a handy utility that helps you shutdown, power off, reboot, hibernate, suspend or log off computers at schedule time you specifies. It gives you different ways to schedule the shutdown event, such as daily, weekly and only once.

---
75) Shut-it Down 2.0
Shut-it Down is a professional utility that you can use to shut down Windows. The supported shutdown modes are: Shut Down, Log Off, Lock the Workstation, Power Off, Hibernate, Reboot, Suspend.

---
76) Advanced Key and Mouse Recorder 2.6.2
It is designed to record and replay the keyboard and mouse activities for automating the plodding and repetitive tasks. You can record mouse movements, mouse clicks, keyboard keystrokes, and save them for replay later.

---
77) USB over IP Network 2.4
Connect any USB device over IP (local area network or the Internet)with USB over IP Network. It lets you share any USB device that is located on a remote PC over a LAN/WAN/VLAN/VPN or Internet and use it as if it was plugged into your own PC.

---
78) Driver Pack Interface 1 Beta 5
Driver Pack Interface 1 Beta 5 http://www.03compu.ru/driverpack

---
79) Advanced Email Parser 2.10
Advanced Email Parser makes email processing automatically. Extract data from email and store it to database, create personal autoresponders, automate and schedule follow up emails, process email attachments and more.

---
80) AllKeys 2.21
AllKeys Macro is a macro program plus work/break timer and mouse replacement tool. Great for users looking for a flexible but robust macro solution that allows you to record and organize a large number of macros.

---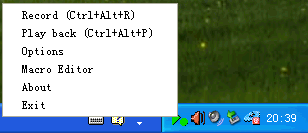 81) Easy Macro Recorder 3.75
Easy Macro Recorder is a handy utility that makes your computers automatically do work for you. It records all operation of mouse and keystrokes and saves them as macros, then Easy Macro Recorder can play back recorded macros to automate your work.

---
82) pcGuardIT Client Edition 1.0.2206.39118
pcGuardIT will give you possibility to monitor the heath status of important Windows Servers and Clients. The new pcGuardIT Manager allows easy configuration of the monitoring application, which is running "invisible" as a Windows Service.

---
83)
Macro Recorder 2.0
---
84) XP Tools 9.8.23
XP Tools is a collection of tools to fix, speed up, maintain and Ptotect your PC! You can get your system running at peak performance levels in few minutes with it.

---
85) User Manager Pro 7.11.090903
Reporting & management of security on servers/workstations. Allows system administrators to report on and make global changes to local user credentials, groups, rights, registry settings, and more across an entire network in a single operation.

---
86) Multi Replace Pro 2.3
Need to search and replace symbols, names, words, sentences or paragraphs in multiple files simultaneously? Get Multi Replace: an essential tool for writers, secretaries, programmers, web developers and other professionals. Try it for FREE now!

---
87) Auto Shutdown Manager 2.5
Saves up to 80% of your power costs! - Network Ready!

---

88) LaunchPad Event Scheduler 3.23
LaunchPad is a task scheduler for Windows. You can run those onerous, oft-put-off tasks after normal operating hours, like disk optimization, tape backups, daily reports, etc. Also has the ability to run task based on conditions such as file exist.

---
89) ScriptAhead 1.0
ScriptAhead helps you automate your daily tasks by writing automation scripts for you. Especially useful for Windows administrators, lets you compose scripts that manage every aspect of a Windows computer/network through an easy to use interface.

---
90) Ultra PDF Tool 3.5
Ultra PDF Tool is a powerful FREE utility program for creating/editing/manipulating multiple PDF files with ease.

---
91) Macro Mania 13.5.3.000
This award-winning program will save you time and money as you automate your computer tasks with macros. Macro Mania eliminates all the tedious computer tasks and redundant typing chores that can be done much faster and easier with macros.

---
92) ClickyMouse, Standard Edition 7.4.7
Create macros working in any Windows application and trigger them by defined mouse action Key features: 150+ commands, macro debugger, visual macro editing, application specific macros, password protected macros and more.

---
93) MultiBatcher 2.3.3
MultiBatcher is a tool for automation and batch processing of tasks on the computer. With the built-in tasks modules you can e.g. generate image galleries, resize images, FTP upload files to servers, rename files, search-and-replace text etc.

---
94) Macro MD 1.3.2933
Macro MD is a powerful, flexible and easy to use automation tool for Microsoft Windows. Macro MD enables you to automate any task on your computer without the need to learn any scripting language.

---
95) BuddyBot - MySpace Friend Adder 2.0.13
myspace friend adder, myspace friend bot, mypace bot, myspace tool, myspace automation tool

---

96) Advanced Task Scheduler Professional 3.2.0.606
Advanced Task Scheduler Professional is a multifunctional task scheduler, which allows you to automate all your day-to-day tasks: launch programs, shut down your system, establish network connections and much more.

---
97) Anasoft Helena 1.5.1
A productivity enhancing tool pack, including Autowork, a macro instruction engine that helps you perform streams of user actions and system operations automatically in a controllable way, and Scheduler, a delicate scheduler, reminder and organizer

---
98) HSLAB Free Shutdown Folder 2.0.4
"It's missing from Windows!" HSLAB Shutdown Folder is a utility which provides a service similar to the Windows 9x/NT/2000/XP "Startup" folder. It launches applications, command files(*.bat,*.cmd) and symbolic links placed into a "Shutdown Folder"

---
99) HSLAB Shutdown Folder Free 2.0.4
"It's missing from Windows!" HSLAB Shutdown Folder is a utility which provides a service similar to the Windows 9x/NT/2000/XP "Startup" folder. It launches applications, command files(*.bat,*.cmd) and symbolic links placed into a "Shutdown Folder"

---
100) AddressGrabber Business 2011
AddressGrabber automates the manual address data entry and makes it hassle free. By highlighting the enquiry forms and clicking on the Grab button, the contact information is extracted and transferred into ACT! , Outlook, Excel,QuickBooks and more

---


Browse Pages: |< << [1] 2 [3] [4] [5] [6] >> >|
Top Downloads for all categories