Browse Software Development : 201-250 programs listed after popularity
Display by: Popularity | Title | Newest | Oldest
201) Profitable Build A Niche Plus Store 6.1
Build A Niche Plus Ebay Store is a website builder which enables you to create a network of traffic pulling, money making niche websites focused around the eBay affiliate opportunity.

---
202) C# Code Export 1.0.0
Quickly and easily reindent, print and export your C# documents (10+ formats supported) with C# Code Export. Convert your C# documents to PDF, RTF, images and more!

---
203) MailBee WebMail Pro 3.1
MailBee WebMail Pro is an advanced web-based email client written in ASP. Supports all features of the Lite version plus DHTML editor, Address Book, Spam filters, multiple accounts per user, integration with existing systems, admin's guide and more.

---
204) N-Tier Slam 2.5.0.1
VB6 based TCP/IP N-Tier application server library that supports database access, chat servers and clients, sending of SMTP E-mail, and calling of sub procedures and functions at the server from a client application. Standalone database access.

---
205) Serv-U 14.0.0.6
Serv-U FTP server includes web, mobile device, SFTP and FTPS file transfer. OS: Windows or Linux. Used by 9 of Fortune 10 to secure file transfers with employees and business partners. Each server supports 100's of GBs per day and 1000's of users.

---
---
206) DAC for MySQL 3.0.7
DAC for MySQL (also known as MySQLDAC) is the most powerful component suite for Delphi/C++Builder/ MySQL. It allows you to create Delphi/BCB applications with direct access to MySQL DB without BDE/ODBC. A MySQL library is not required.

---
207) Just BASIC 1.01
Just BASIC is a free personal Windows programming tool and tutorial. Great for teaching or learning programming. Create utilities, games, business apps with syntax coloring editor, debugger, GUI editor. Produces standalone applications.

---
208) ClearImage DL/ID Reader 5.5
Engine reads and decodes both barcodes from any scanned images (TIFF PDF JPG) of Driver Licenses and ID Cards. Automate the data capture with VB C++ or Delphi application. High performance solution comes with FREE SDK and Consulting services

---
209) Visual Paradigm for UML (Personal Edition) for Windows 5.2
Visual Paradigm for UML is a powerful but easy-to-use UML tool. VP-UML supports round-trip engineering, reverse engineering, real-time code generation, import Rational, export/import XMI, report generator, Microsoft Visio integration, plugin, etc.

---

210) Virtual Null Modem 2.0.2.22
The program emulates one or couples of RS-232 serial ports connected via virtual null-modem cable. It is possible to create the unlimited couples of virtual serial ports on a single PC and connect them in any sequence using virtual null-modem cable.

---
---
211) VideoEdit Mobile Video Converter ActiveX 7.3
Convert video 3gp, flv flash video, ipod, psp , DIVX, AVI, WMV.Allow Input MPEG2, QuickTime MOV, Mp4 with aac, 3gp with amr , MPEG1, VOB, WMV, AVI, ASF DIVX file.add overlay banner text on video.

---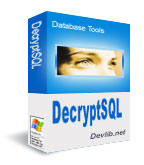 212) DecryptSQL 2.6.1
Do you often have a headache when you try to get the decryption MS SQL stored procedure, Trigger, Function, View! with "WITH ENCRYPTION"? Don't worry ! You can try this tool. It's fast and accurate. Now feel the convenience of DecryptSQL!

---

213) FTP Client Engine for Visual Basic 3.3
FTP component library for Visual Basic or VB.NET provides direct control of the FTP protocol from any Windows application program. Transfer, rename, delete, list, append files. Create and remove server directories. Royalty free. Many examples.

---
214) Rainbow Mystery 3.0
Fun flower puzzles! from youtube.com/user/hiddenobjectco games and reviews.

---
215) SQL Batch Executor 1.0
SQL Batch Executor will run SQL scripts for any database with an ODBC compliant driver.

---

216) DzSoft Perl Editor 5.8.9.6
DzSoft Perl Editor is a popular tool for writing, editing, and debugging Perl/CGI scripts. Despite being a powerful professional IDE, DzSoft Perl Editor is lightweight and deceptively simple, which makes it comfortable, productive and easy to learn.

---
217) TX Text Control ActiveX Enterprise 17.0
Word processing ActiveX component that offers developers a broad range of word processing features.

---
218) Apex SQL Edit 2005.03
Apex SQL edit is an integrated SQL database editing tool/IDE. Apex SQL Edit provides source control integration with Visual Source Safe, Vault, Microsoft Team System and a variety of other source control systems.

---
219) EMS SQL Manager 2005 for InterBase/Firebird 4.4
EMS SQL Manager 2005 for IB/FB is a powerful graphical tool for InterBase and Firebird administration and development. Its easy-to-use graphical interface and a lot of features will make your work with InterBase and Firebird as easy as it can be!

---
220) EMCO MSI Package Builder 4.0.2
Monitor any system changes using drivers. Monitor and capture any system changes using signed drivers and make an msi package out of it that can be deployed with MSI Remote Installer or Active Directory Group Policy.

---
221) Sequence Diagram Editor 1.6
Modeling tool that simplifies and speeds up the creation and maintenance of UML sequence diagrams and telecom/wrieless call flow diagrams. It automatically takes care of layout and formatting (across multiple pages if needed).

---
222) ActiveMaker Lite 6.1
ActiveMaker is designed to dramatically reduce time and effort in MS Visual Basic projects development.

---
223) Rbarcode for Php 1.2
Php script that creates barcodes. It supports all major 1D and 2D barcoding symbologies: Code39,Code39 (Extended), UPC, EAN8, EAN13, CODE128, Code 93, Code 93 extended, Industrial 25, GS1 Databar,RSS,Aztec , Datamatrix, PDF417, QRCode and Maxicode.

---
224) PG eLMS Pro Elearning Platform JUN.2010
Open source Learning Management System allows building and offering learning material, importing SCORM compliant courses, self-planning learning activities, tracking online. Fully customizable script can be adjusted to personal needs and requirements

---
225) Chart component .Net 4.3
Chart Component .NET is a powerful charting component used to create attractive 3D and 2D charts for desktop applications and web pages using .NET technologies. 3D charting uses the OpenGL graphics engine to create sophisticated 3D charts and graphs.

---
226) Targa Menu XML 1.0
Flash menu, flash navigation. XML based. Easy to use flash menu for your web site, can be configured by an external XML file with a text editor. Many options and features, a dinamic image can be loaded as background for the menu.

---
227) NSIS Skincrafter plugin 1.0
NSIS SkinCrafter Plugin is a freeware developer tool for install packages skinning created with NSIS installer. In other words this simple add-on lets you create good looking interface of your NSIS setup package.

---
228) PopupNotify 1.0
PopupNotify is an ActiveX control provides MSN style popup alerts. Popup alerts fade in and slide up above the taskbar and disappear after a few seconds. Supports transparency, balloon tips, pictures, gradients, alignments and more! Unicode enabled.

---
229) ActiveX Instrument Extension Components 3.000
ActiveX Automation HMI Instrument Input Components can be widely applied in many industry HMI applications and Simulation environments

---

230) Windows Std Serial Comm Lib for Delphi 5.4
Delphi serial port RS232/R485/RS422 communications component library. Control multiple ports simultaneously; line status/control,modem control,ASCII/XMODEM/YMODEM, virtual ports (USB to serial, Bluetooth serial), hardware/software flow control.

---
231) FlowChart.NET 4.0.4
The FlowChart.NET component adds to applications the ability to create and present workflow, flowchart and process diagrams, database entity-relationship diagrams, organizational, hierarchy and relationship charts, network schemes, graphs and trees.

---
232) C Code Library 2.1.0.146
C++ Code Library is a powerful source code Library shipped with 50,000++ lines of code, quick and powerful search engine, powerful printing capability, password protection, user notes & attachments handeling, favorites & rating support and more!

---
233) 3D Control Magic for .NET 2.0
3D Control Magic for .NET is the ultimate 3D control component developed with the purpose of replacing some of the old fashioned Windows flat controls in applications written with Visual Studio.NET

---
234) WinPopup ActiveX 1.04
WinPopup ActiveX solves the problem of exchange data between your applications on the local area network (or in local computer) without any server. Simple to use, it also manages the Windows XP firewall.

---
235) Power Render 6
Power Render is a general purpose software development kit for games and 3D visualization. This is the core file with all tools, documentation and C++ libraries. Visit www.PowerRender.com to download the rest of the SDK.

---
236) Windows HLP To RTF 5.6
Windows HLP To RTF is designed to convert Microsoft Windows Help (*.HLP) to RTF format documents.

---
237) Blueprint Software Modeler - Community Edition 1.4.0
Blueprint Software Modeler FREE Community Edition. A free and powerful UML software modeling tool implemented according to the latest UML2.1 standard; integrated with Eclipse3.2. It supportes the most important UML diagrams with rich semantics.

---
238) Dynamsoft SourceAnywhere for VSS 5.3.1
Dynamsoft SourceAnyWhere for VSS is a Visual SourceSafe remote access solution. As an add-on tool of SourceSafe, SourceAnyWhere provides fast, reliable and secure remote access for users of SourceSafe 6.0 and SourceSafe 2005.

---
239) InstallWizard XP 4.80
Has been designed to make creating a professional-quality installation faster and easier than ever before, while still providing the features you need most.

---
240) declaratii.ro 1
matrimoniale, matrimoniale romania, matrimoniale cu poze, matrimoniale strainatate, poze, mesaje, prieteni, fete, femei, intalniri - Try declaratii.ro (feelings.ro) NOW! It's Absolutely Free! Create a personal profile. Search profiles of men or women

---
241) EMS PostgreSQL Manager 2.8
EMS PostgreSQL Manager is a powerful graphical tool for PostgreSQL administration and development. It makes creating and editing PostgreSQL database objects easy and fast.

---
242) Face Recognition ActiveX DLL 1.1
Create your own biometric face recognition security for Windows. Two functions : Train and Recognize. Uses neural net back propagation algorithm. Works great even for a low resolution web cam image. Source Code with Video capture & feature extract.

---
243) GPS-Simulator 2.0
The Skylab GPS Simulator provides a complete suite for all your GPS simulating needs. You can: * Replay your GPS logfiles * Multiplex your GPS receivers * Transform your GPS receiver interface * Bridge a remote GPS receiver

---
244) FTP Voyager 16.1
FTP Voyager: FREE FTP client and scheduler. FTP, SFTP (SSH) and FTPS (SSL/TLS) support. "No-script" automation, drag-n-drop, multiple simultaneous transfers, folder synchronization, large file resume (checkpoint restart) and more!

---
245) Visual Patch 2.0
Visual Patch 2.0 is a fast and efficient solution for creating secure binary difference software patches. Simplify your software version management and turn the otherwise complicated task of managing point releases into a fully automatic solution.

---

246) Java Outlook Connector 2.0.3
The Java Outlook Connector (JOC) allows Java developers to access data stored in the Outlook application, like e-mails, contacts and appointments.

---
247) Trivia Machine 1.0
Scale the knowledge ladder today.

---
248) HXTT Text JDBC and CSV JDBC Drivers 3.0.003
Pure Java Type 4 Text JDBC and CSV JDBC (1.2, 2.0, 3.0) driver packages for raw data, flat text, CSV file, TSV file, PSV file, fixed-length, and variable-length binary file, supports transaction, embedded access, and remote access.

---
249) XMLSpy Enterprise Edition 2017
Altova XMLSpy 2017 is the industry-leading XML development environment with the top XML editor, schema designer, code generator, converters, debuggers, profilers, support for XSLT, XQuery, XBRL, WSDL, SOAP, JSON, DBs, Visual Studio, Eclipse & more.

---
250) SCML MSFLEXGRID PRINTER 3.00
VB6 ActiveX DLL- Print and preview MSFlexGrid controls with formatting output.

---


Browse Pages: |< « [1] [2] [3] [4] 5 [6] [7] [8] [9] » >|
Top Downloads for all categories