Browse Software Development : 51-100 programs listed after popularity
Display by: Popularity | Title | Newest | Oldest
51) Sendkeys Replacement for Visual Basic 3.00.21
Sendkey is a direct replacement for Visual Basic's Sendkeys which works under the Vista and Win 7 operating systems. To use it, all you have to do is add the module to your project then replace "Sendkeys" with "Sendkey" in your code.

---

52)
ReFox XI+ 11.5
---
53) Cute Knight 3.0
Be a mentor! from youtube.com/user/hiddenobjectco games and reviews.

---
54) Facial Studio for Windows 3.0
Facial Studio, the ultimate new software which gives you more than 500 controls over the head creation process and much more. Finally the award winning suite of plug-ins will be available in a stand alone Windows version.

---
55) Stellar Phoenix Outlook Pst Repair 6.0
Stellar Phoenix Outlook PST Repair repairs corrupt Outlook data (.pst) files which is then extracted into a new importable PST. With this tool, you can also recover accidentally deleted e-mails that you have emptied from the deleted items folder

---
---
56) ASP.NET PayPal Control for Website Payments Standard 3.1.0.5
ASP.NET Control Solution for integrating PayPal Website Payments Standard with your eCommerce Web Application. Generates Encrypted Website Payment Buttons on the fly. OOP Interface for buttons BuyNow, Donation, Shopping Cart, Subscriptions, IPN & PDT

---
57) Access MDE Unlocker 1.5
Unlock an Access MDE database allowing design changes to be made to forms and reports. Functionallity changes can be made by using macros. Note: VBA modules remain compiled and locked.

---
58) RadarCube ASP.NET OLAP control for MS AS 3.21.0
RadarCube is an ASP.NET and Silverlight controls (OLAP Grid and OLAP Chart) providing you with a unique chance of supplying the web site with the MS Analysis 2000 and above client abilities. It can be an excellent substitute for OWC PivotTable.

---
59) Smart Editor Pro Freeware 3.0
Smart Editor Professional Freeware is a complete Text, Hex, Programmers, HTML Editor.

---
60) VBto Converter 2.70
Software for converting MS Visual Basic 6.0 projects (including source code) to Microsoft VS VB.NET, C#, J#, VC.NET, VC++ (MFC), Borland Delphi, C++ Builder. Visual Basic forms viewer and source code analyzer. VB6 Decompiler.

---
---
61) DJ Music Mixer 5.5
Full-featured DJ and beat mixing system which lets you groove to your own style of DJ music. Professional independent decks, beat-sync display, pitch controls, fast-seek, cue, cross fader, and dozens of sampler decks are among its functionality.

---
62) EMS Quick Import 3.2
Advanced Data Import VCL is a component suite for Borland Delphi and C++ Builder that allows you to import data from files of the most popular data formats to the database. Adjustable parameters for each type of import.

---
63) csXImage 3.4
ActiveX (OCX) control to display, resize, join and edit images. Support for Twain scanners and HTTP uploads. JPG, GIF, BMP, PNG, PCX, PSD, TIFF and WBMP image formats. Watermark, add text, import from file or URL. Edit IPTC, EXIF and XMP meta data.

---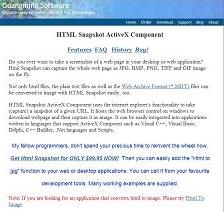 64) Html2image Linux 2.0.2014.401
Convert html to bmp, png, jpg and jpeg on Linux Support command line parameters Support jpeg compression quality control Support saving the whole html page to image without scrollbars. Support batch convert a lot of url to images

---

65) Crystal FLOW for C 4.60
Crystal FLOW is valuable for reviewing C/C++ source. It has: Flowcharts, Rich Trees, Visio/JPEG exports, Browser Editions: Docs: HTML docs + flowcharts, trees Professional: Call/Data Flows, RichTree, Object/Stack Size, DataDependency

---
66) MeLite for SAS 9.10.06
Multi-Edit Lite for SAS is a modern IDE that is customizable, extendable and allows the creation of your own tools, capable of operating within the editing environment. Support included for over 50 languages. Edit within a single environment!

---
67) Java GDS Plugin 0.9
This plugin allows Google Desktop Search to index Java source files. Includes syntax coloring in the cache.

---
68) NConstruct 1.6.2
NConstruct is a RAD tool and environment for .NET Framework.Its goal is to reduce the time used for the development of most commonly used enterprise applications. Instead of months of developing you can build your core application within minutes!

---

69) WPF Barcode Professional 3.0
Barcode for WPF .NET. High quality vector-based Linear, Postal and 2D Symbologies. Visual Studio & Expression Blend support. WPF data-binding support. Crystal Reports .NET Support. Save barcode images in image files. XML Paper Specification (XPS).

---
70) Spyware Bot - Spyware/Adware Remover 1.4.0.3
Scan your computer for hidden AdWare and Spyware, Remove them permanently. Our Adavanced Software Stops adware and spyware from sneaking into your system. You are notified the moment a spyware application attempts to run on your system. FREE DOWNLOAD

---

71) PSPad editor 4.5.9
PSPad editor is a programmers editor with support for multiple syntax highlighting profiles. It comes with a hex editor, CP conversion, text differences, templates, macros, spellcheck option, auto-completion, Code Explorer and much more.

---
72) PixTwix 6.03
PixTwix is an image processing ActiveX control featuring over 150 methods for manipulation and enhancement of images, special effects and filters, layer blending, selection routines and more. PixTwix can read and write many popular image formats.

---
73) Vector Graphics ActiveX 1.6.7
Vector Graphics ActiveX is a component oriented for creating interactive graphics systems like GIS, CAD and SCADA.

---
74) PlayBasic 1.33
PlayBasic is a powerful 2D game creation language. Made for everybody (beginners and game designers) and includes as many built in features as possible. Letting programmers focus on making great games quickly.

---
75) CSharp Code Library 2.1.0.146
CSharp Code Library is a powerful source code Library shipped with 50,000+ lines of code, quick and powerful search engine, powerful printing capability, password protection, user notes & attachments handeling, favorites & rating support and more!

---
76) VideoEdit Pro (Encode MPEG) ActiveX Control 1.4
convert video to MPEG1, MPEG2, VCD-PAL,VCD-NTSC, SVCD-PAL, SVCD-NTSC, DVD-PAL, DVD-NTSC, CUSTOM MPEG SIZE. Variable Bit rate / Constant Bit rate selection in MPEG files. join/merge a lot of video/audio files into vcd, svcd, dvd, mpeg1, mpeg2

---
77) iShow tutorial builder standard 2.0
IShow is easy-to-use. Create fantastic online FLASH demos in minutes for technical support solutions, computer based training, product demonstrations and plenty more...

---
78) TWAIN to TIF PDF JPG ActiveX OCX SDK 5.51
Capture images from all the TWAIN compliant scanner and webcam devices. Has ability to adjust the scanner image resolution (DPI).

---
79) NUnit Test Generator 1.32
Does the quality of your code matter? If it does, then you simply have to try the NUnit Test Generator. The NUnit Test Generator works with NUnit, MbUnit, xUnit to make your life easier. Increase your code coverage. Prevent tomorrow's bugs today.

---
80) Dragon 3.0
There's no hunt like a dragon hunt! from youtube.com/user/hiddenobjectco games and reviews.

---
81)
SPFOL JSP FORUM 1.0.2
---

82) Rapid PHP Editor 2006 12.0
Quick, lightweight and very powerful PHP editor that combines features of a fully-packed PHP IDE with unmatched speed. Rapid PHP is the most complete all-in-one software for coding PHP, HTML, CSS, JavaScript with integrated debugger and other tools.

---
83) FLV Directshow Source Filter 1.49
FLV Directshow source filte allows playback FLV Flash Video.

---
84) Neuron PE Disassembler 1.0 b6
Neuron PE Disassembler is a visual tool for exploring PE internals. Disassemble DLL,OCX and EXE files and view their code,dependencies and resources. View DLL, OCX and EXE code as Intel ASM and/or structured pseudo ASM/C/C++. View LIB and OBJ.

---
85) Query@Work 1.0.0.2
Execute a SQL query on multiple ODBC databases at the same time. You can execute any type of query on any database that can be reached with an ODBC driver.

---

86) ActiveResize Control Lite 3.0
VBGold ActiveResize Control makes your VB applications completely resolution-independent. It resizes all controls and grids on your form when the form is resized. ActiveResize can handle any control and grid (+ Sheridan). No need to write any code!

---
87) VisioForge Video Capture 8.05
VisioForge Video Capture SDK allows programmers to easily integrate video capturing and processing capabilities into their software applications.

---

88) VB.Net to C# Converter 3.12
VBConversions has the most accurate VB.Net to C# Converter money can buy. The VBConversions VB to C# Converter won Visual Studio Magazine Reader's Choice Award, 2006. Free download.

---
89) GrFinger FREE 4.1
GrFinger is a powerful fingerprint scanning/matching library in DLL/ActiveX format. Sample source is provided in many languages. Many fingerprint readers are supported. Two end-user applications comes in the package. Free for non-commercial use.

---
90) SQL Assistant for Oracle 2.5.0.7
GUI-based utility for Oracle management. Java FREE, fast and efficient! Object Management, SQL code completion, Session manager, Extract Wizard, Logminer Wizard, Query History, asyncronic query execution and many useful features available!

---
91) Quick Time Source Directshow Filter 3.39
Quick Time Source Filter is a powerful source filter that allows playback mov, HD mov,ipod, psp, mp4 video with aac audio, 3gp video with amr audio in any Directshow base application. The quality of video same as Quick Time Player.

---
92) ASP.NET Code Library 2.1.0.146
ASP.NET Code Library is a powerful source code Library shipped with 50,000+ lines of code, quick and powerful search engine, powerful printing capability, password protection, user notes & attachments handeling, favorites & rating support and more!

---
93) JavaScript Code Library 2.1.0.146
JavaScript Code Library is a powerful source code Library shipped with 1000+ lines of code, quick and powerful search engine, powerful printing capability, password protection, user notes & attachments handeling, favorites & rating support and more!

---
94) WLock-Licensing Source Code for VB6 1.0.3
WLock 1.0.3 is Complete Source Code for Licensing Visual Basic 6.0 Projects. The Source Code is offered so that the same can be tightly integrated into your VB6.0 Applications.

---
95) CMD2EXE 1.02
Similar to a batch file compiler, CMD2EXE can create an EXE file from one or more batch files.

---
96) dbQwikSite PE 5.2.3.0
Amazingly powerful web site builder. Create data driven web pages with ease. Just say "No!" to hours of learning and programming. dbQwikSite writes all your code for you. Works with popular databases and web servers. Creates ASP, ASP.net and PHP.

---
97) EBook Maestro FREE 1.80
EBook Maestro frames all gems of thought into a single executable file. The eBook maker helps create eBooks that are both accessible and secure from plagiarism. Rich interface, search, read-out-loud options and much more.

---
98) Polystyle Source Code Beautifier 3.3u
Automatically reformat source code in your own style with just a point and click! Polystyle reformats HTML, C/C++, PHP, Javascript, CSS, C#, Java, Perl, JSP, Python, Delphi, Visual Basic, ASP, Actionscript and XML. Download your free trial today!

---
99) Video Media Player Pro ActiveX OCX SDK 9.52
Play streaming MP4 MOV, video player activex - vob, flv, Mov, M4a, Mp4, 3gp, Divx, AVI, WMV, MPEG-1, MPEG-2 (need dvd decoder), RM, ASF, WAV, MP3, MID file playback.Video Mixing, change audio pitch, Overlay text, image, scrolling type.

---

100) CreateInstall Free 4.14.5
CreateInstall Free is a freeware installer for producing good looking setups. Building installation projects are surprisingly easy with its simple user interface. The resulting setup files can be compact and easy for the end user to install.

---


Browse Pages: |< « [1] 2 [3] [4] [5] [6] » >|
Top Downloads for all categories