Browse Players - Audio & Mp3 : 1-50 programs listed after title
Display by: Popularity | Title | Newest | Oldest
1) !1 Power MP3 WMA Recorder 1.00
Power MP3 WMA Recorder makes high-quality recordings directly from your sound card. It can record streaming audio directly to MP3, WMA and OGG files, no tempory wav file involved. Sound quality of the recordings remains excellent.

---
2) !Maya 1.0.2
DigiMode Maya is an Audio and Multimedia Player for all popular midea types, mp3, ogg, midi, mod, wmf, move, mpg, dat, avi, jpg, bmp, qt, asf, etc. The program ialso has an ultra fast photo viewing panel and still FREEWARE with absolutely no limiit

---
3) 24 Channel Multi Level Meter Bridge 2010
You can monitor 8 input channels, 16 input channels or 24 input channels in realtime. Referenz Level Level America = -24 dBFS, England / Europe = -18 dBFS and Australia = -20 dBFS. Nordic n9, BBC, EBU, DIN 45406

---
4) 32-bit AudioPlus 2.00
Description: AudioPLUS is a great looking and easy-to-use MP3 Player. The following audio file formats are supported: *.MP3, *.MP2, *.WAV, *.L3, *.L2 and *.ATX. This program lets you easily create and edit playlists.

---
5) 3D Sound Tester 1.0
The 3D Sound Tester is wav file player that lets you pan sound around you with your mouse. Move the sound location node, and you'll feel the distance and direction of the sound change even with simple stereo speakers.

---
6) 3webTotal Tv & Radio Tuner 7.01
Get more than 1750 TV channels and 9500 radio stations Absolutely free (gratis)

---
---
7) @MAX Tray Player 1.01b
Listen to some background music when working! This program inserts control buttons right into your Windows tray. You don't even have to open the main program window to control the player. It's lightning fast and has a low impact on system resources.

---
8) A1 WMA Player 1.0
Play and convert WMA (Windows Media Audio) and more sound files (ACM, AIF, APE, CDA, MP3, OGG, SND, VOX, WAV, WMA) easily! Just add your audio files to the Items List of the program, and play them without installing any additional codec. Als

---
9) AAC Music 3.3.2.85
AAC Music is a powerful yet easy-to-use converter that can convert aac to other audio formats such as mp3, ac3, wav, ape. It has high conversion speed and supports batch mode.

---
10) Abdio DVD CD Burner 7.87
Abdio DVD CD Burner is an easy-to-use and powerful dvd cd burner to burn MP3, DATA, ISO, AUDIOS, VIDEOS, and IMAGES to high-quality CDs or DVDs . You can create and burn ISO image file. It can support Long File Name File System.

---
11) Active MP3 Tray 2.0
Active MP3 Tray is a powerful music manager and mp3 organizer which helps you to organize and manage all music files on your computer. It scans your hard disks for MP3 files and builds popup menu with songs genres in system tray.

---
---
12) Advanced MP3 Catalog Reader 2.00
Advanced MP3 Catalog Reader is the free viewing companion to Advanced MP3 Catalog. Advanced MP3 Catalog Reader lets you view, navigate and search in Advanced MP3 Catalog (AMC) files.

---
13) Advanced Ra-Renamer 1.2
Advanced Ra-Renamer renames your Real Media files using the internal tag present in this files changing them from their annoyingly unhelpful numeric names.

---
14) Agorics Ringtones Player 1.0
Agorics Ringtones Player helps you preview your mp3 ringtones before downloading them to your mobile phone. Listen to as many mp3 ringtones as you want and select your favorite ones.

---
15) AICAudioPlayer 1.5.2.17
AIC Audio Player is a freeware program, for playing audiofiles as WAV, PCM, MP3, MP2, WMA, OGG, AAC, M4A, MP4 (AAC), MP2 (AAC), AMR, CDA, FLAC, APE, AMR, AWB, PCM, a-Law, u-Law, MS ADPCM, IMA ADPCM, GSM 6.10, M3U, PLS, CUE, etc...

---
16) AIFF Player Plus 3.0
Play and to convert AIFF, AIF, AIFC, MP3, WMA, fast and easy! Also, AIFF Player Plus 3.0 contains the ability to edit the AIFF, AIF, AIFC, MP3, WMA audio format, so you can cut and edit your audio files, easily.

---
17) AK-Player 7
Play almost any media files and play YouTube videos offline with AK-Player. The free media player download provides many unique features such as the ability to play multiple files at once and search for streaming video files.

---
18) AllDay DJ 2.2.0.0
Although easy to use, AllDayDJ does not lack on features. Providing you with a stable playout system AllDay DJ also boasts: * 24/7 automation system. * (Fairly) easy to use. * Searchable record library. * And much more...

---
19) ALSong 1.9
Read live music lyrics and create visual custom mixed music albums with the ALSong Live Music Lyrics MP3 Player from ALTools. Easily search your music and organize it in an advanced playlist. Get free music downloads. Broadcast Internet radio

---
20) Amazing Slow Downer for Windows 2.79
Helps you to transcribe your favorite solos by slowing the music down from 1% to 400% without changing the pitch.

---
21) Ambience Pods - City 1.00.0
Take a long walk through a modern, bustling city, without any chance of being run over or mugged! Explore its various locations and eavesdrop on your fellow pedestrians.

---
22) Ambience Pods - City Park 1.00.0
You won't get much sleep in this busy city park, but you'll have lots of fun eavesdropping on your fellow human beings. Just watch out for that skateboarder ... the crazy loon!

---
23) Ambience Pods - Forest 1.00.0
Take a walk through this lush forest, rich in ambient sound. Hear the wind ripple through the trees, a wide variety of wild birds and gentle bubbling streams.

---
24) Ambience Pods - Ocean Waves 1.00.0
There's nothing like walking along a deserted beach, listening to the waves rolling in. Actually there is! This Ocean Waves Ambience Pod is pretty much spot on!

---
25) Angel's Vox 1.0
Angel's Vox is the first software player designed specially for audiobook enthusiasts. It saves volume level, playback speed, last played track and position for each audiobook in the library. Calculates time played stats, has a sleep timer feature.

---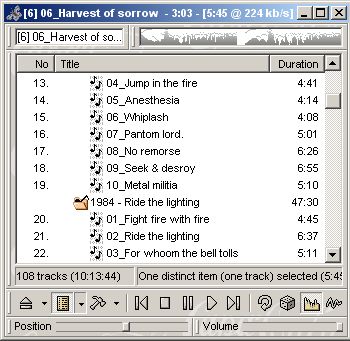 26) Apollo 37zz
Apollo started out as a MP3-player. It is recognized by its outstanding MP3 decoding quality, powerful continuous playback support and advanced playlist capabilities. It supports different file formats through so called input plug-ins.

---
27) Article Wap 1.00
Best articles on Articlewap.com

---
28) Ashampoo Media Player+ 2.03
Multimedia player to burn playlists to CD, and much more.

---

29) AthTek Voice Recorder 1.99
AthTek Voice Recorder is smart audio software for recording, playing and repeating voice on Windows Mobile Phone. It supports audio formats as Mp3, WMA, OGG, REA, ect. Flexible voice repeater function enables 0.4-4 times audio streaming speed.

---
30) Audiobooks for mp3 players 1.0
Audio books for your mp3 player and computer. Find great audio book downloads and take them with you anywhere. Listen at home, the beach, the gym or in your car. Large selection at affordable prices. www.audiobooksalive.com

---
31) AudioPlayer 0.95
AudioPlayer is a DirectShow based media player capable of playing MP3, MPGA, WAV, MIDI, AU, WMA and ASF sound files as well as WPL, ASX, WAX and M3U playlists. Internet streaming is also supported and no install is required. All in less than 100KB.

---

32) Audiosoft EJukebox 5.01.4
EJukebox merges your audio and video files with youtube results in a fast database with a customizable interface. It automatically finds album art for your songs and can import your CDs.

---
33) Audition 2000 4.2
Audition is a small utility that will allow you to play sound files located in a disk directory. A play list is created of all sound files found in the selected folder. Sound files can be played individually, or the entire play list can be played.

---
34) AV MP3 Player Morpher 6 7.2.05
Morph music by changing voice, tempo as well as adding effects and beats. Play, capture & record music, convert, rip, and burn MP3s & CDs. Edit CD Cover & Label. Full functions included to make unique CDs, movies, audio & video clips.

---
35) AV Music Morpher Gold 5.0.58
An advanced Digital Audio and DJ Workstation includes virtual Easy DJ, multi-format audio player, recorder, tempo and beat changer, studio-quality audio effects, voice remover and extractor, wave editor, versatile converter, ripper, burner, and more

---
36) AVI Codec Pack Pro 2.2
The D-i-v-X - AVI Codec Pack Pro has been created to make installing major codec's, filters, plug-ins and splitters a breeze.

---
37) AvPlayer 1.00
AvPlayer is an advanced multimedia player for Windows 95/98/ME/2000/XP. It is fast, powerful and easy-to-use.

---
38) Axife FM Player Deluxe 2.39
Axife FM Player is the only application on the Internet that turns an ordinary TV/Radio card into an expensive intelligent FM receiver! You can shift a radio broadcast at any moment in any direction! 31-band equalizer, MP3-recording and even more...

---
39) Axife FM Player Lite 2.05
Axife FM Player Lite is the best freeware application for TV/Radio cards. Easy to use replaceable graphic interfaces, adjustable transparency level, hot keys, flexible task scheduling, multilanguage support, low usage of system resources, SDK.

---
40) Batch Printing 3.0
Batch Printing Prints Bunch of DOC, DOCX, PDF etc file in Batch & file's printing can be scheduled. Batch Printer can prints many number of files in batch. It supports file formats such as DOC/DOCX, PDF, TXT, JPG/Jpeg, html, RTF, PPT, POT etc.

---
41) Billy 1.02
Billy is an ultra fast no-nonsense audio player. Forget about outdated playlists, get a grip on your large expanding mp3 collection.

---
42) Black Obelisk Playlist Maker 2.03
Black Obelisk Software Presents The Black Obelisk Playlist Maker, software to organize and play your large, unmanageable Music Collection. Instantly view your songs sorted alphabetically by artist or divided into selected groups.

---
43) Blackberry Auto Playlist Creator 1.0
Blackberry Auto Playlist Creator is a program designed to automatically create playlists for the music on your Blackberry.

---
44) Blackbox 3D MP3 Player Skinning Kit 0.9
OpenGL 3D skinnable MP3 player that exists outside of 2D windows. This kit will show you how to modify the look and feel of a 3D MP3 player that uses the Blackbox technology. The kit can also be used on other Blackbox applications.

---
45) Blaze TrayAudio 3.0
A full-featured audio player that runs conveniently from the system tray and responds to keypresses to change tracks or shuttle around your playlist. Plays MP3, CD, WAV, MIDI, WMA, AIFF, AU, and SND files.

---
46) Bluejay 1.0
BLUEJAY Mpeg Suite - Media Player & Disc Jockey, Wave & MP3 Editor, Equalizer, Digital FX, CD Recording, Mod Tracker, Midi Sequencer, Mixer, Wave & Spectrum Analyzer, Auto-queue creation, Professional DJ controls, support for portable media players+

---
47) BPM Beats per Minute Detector 1.01
BPM Beats Per Minute Detector is an ideal program for DJs. With one click, you can detect the BPM of hundreds of mp3 files. Anyone wishing to make musical productions or mixes with good results, must detect the BPM of each mp3 file.

---
48) Carlanthano 3.5
A jukebox that creates a playlist of multimedia files and can be left to play them in the taskbar while you work.

---
49) CASPandR 0.9.0
Easy-to-understand and operate audio streaming player and recorder. After some mouse clicks you will able to record streaming audio from ShoutCast compatible servers. It's free for listening and requires no charge registration for audio recording.

---
50) CC Player multimedia 2.4.6
You can control your film or your music with the mouse Wheel and the controls keys which you have chosen. You can read the videos step by step or to advance and move back at high speed and to control the volume or the zoom, by using the mouse wheel.

---


Browse Pages: |< 1 [2] [3] [4] [5] >> >|
Top Downloads for all categories