Browse Utilities - Audio & Mp3 : 1-50 programs listed after popularity
Display by: Popularity | Title | Newest | Oldest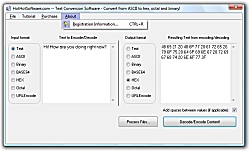 1) Text to hex text conversion, Text to binary, Text to octal, hex to text, base64, urlencoding/decoding and binary to text text conversion software Software! 2.0
to octal, hex to text, and binary to text text conversion software Software! Text to hex text conversion, Text to binary, Text, base64, urlencoding/decoding

---

2) Code to Flow chart generator 3.5
Code to Flow chart generator is an automatic flow chart generator software , It can reverse engineering a program , create programming flowchart from code, mostly used on flowcharting a program and documenting source code .

---
3) M4a/Flac/Ogg/Ape/Mpc Tag Support Plugin for Media Player & Media Center 2005 1.0
M4a/Flac/Ogg/Ape/Mpc Tag Support Plugin add support for various additional audio files tag formats into Microsoft Media Player v10 and Windows Media Center Edition 2005, it allow you to add this files into Media Library with all its tag information.

---
4) Presentation to Video Converter 6.6.44
Presentations to Video Converter allows you to convert PowerPoint presentations into Video, Flash, GIF, DVD without using PowerPoint! The converting process allows human interaction on PowerPoint content during conversion. PowerPoint is not required!

---
5) PodPlus 2.0.2
Copy music off an iPod and turn it into an information repository. Transfer all kinds of data to your iPod, including driving directions, contacts, appointments, email, notes, tasks, podcasts, news, weather forecasts, horoscopes, showtimes and more!

---
6) SC Free Audio Extractor 5.6.0.5
Extract Audio from video (AVI, MPEG,WMV,ASF) and save it to any of the following popular formats: WAV PCM, CDA, MP3, WMA, ALF2, ADPCM, GSM, G.726, DSP, A-LAW, ACM, U-LAW, PCM, Ogg Vorbis.

---
---
7) MP3 Filename Formatter 5.0.112
MP3 Filename Formatter quickly renames MP3 filenames and sets internal MP3 ID Tags. This tool removes Underbars ("_"), extra spaces and other unwanted characters from the filename and leaves a nice-looking formatted filename.

---
8) Convert PPT 1.0
Convert PPT application was designed to help you convert .ppt files to self-running exe file or gif, jpg, png, bmp, rtf, html files.

---

9) USB Server for Linux 1.9.5
Simply and powerful software solution for sharing and accessing USB devices over local network or Internet! USB Server for Linux allows to work with the remote USB devices as if they are physically plugged into your computer!

---
10) Ultimate CD/DVD Burner 3.0
Ultimate CD/DVD Burner is a free, fast, powerful and easy to use CD DVD burner software that burns data, audios, videos, and images to CDs or DVDs.

---
11) 101 MP3 Splitter & Joiner 3.9.5
You can split, cut, trim a large MP3 file into multiple smaller pieces or joint, merge multiple MP3 files to a larger one. Split and merge MP3 files directly without MP3 re-encoding, it is fast and no sound quality loss.

---
---

12) AudioShell 1.1
AudioShell is a freeware MS Windows Explorer shell extension plugin which allows you to view and edit music file tags directly in Windows Explorer. AudioShell supports MP3, WMA, Apple iTunes AAC/M4A/M4P, MP4, MPC, monkey's audio, OGG and FLAC files.

---
13) BKF File Recovery 5.4.1
BKF File Recovery Software is the eminent and finest repair tool to recover, repair and restore BKF file which is easily repair and open corrupted BKF file.

---
14) Systerac XP Tools 6.02
An incredible package of tools for Windows 7, Windows Vista and Windows XP that will improve your PC performance, speed up your programs and Internet connection, diagnose pc problems and tweak your Vista PC for optimal results.

---

15) USB Redirector PRO 4.5
Simply and powerful software solution for sharing and accessing USB devices over local network or Internet! USB Redirector allows to work with the remote USB devices as if they are physically plugged into your computer! Now it is Linux OS compatible.

---
16) MediaWidget - Easy iPod Transfer 6.0.63
MediaWidget | Easy iPod Transfer - is an easy way to Transfer iPod contents to/from your computer or transfer from your iPod directly into iTunes. Transfer Music, Photos, Videos, Playlists, Playcounts and more from your iPod back to your PC.

---
17) Text to Speech MP3 with Natural Voices 1.71
Text to speech, text to mp3, batch convert text files to MP3 files. Integrate with MS Word, WordPerfect, Internet Explorer, Windows Explorer. Read aloud any text. AT&T natural voices (US, UK, German, French, or Spanish) provide you excellent voice.

---
18) Pictures Slideshow Maker 2.0
Pictures Slideshow Maker allows you to create MPEG video files, EXE and screensaver files using your photos and music. You can burn your presentation on CD and DVD discs and view it on DVD video players and computers. Uses DirectX 9 and 3D hardware.

---
19) Virtual Audio Cable 3.10
VAC is intended to connect several audio applications together in real time. It's like a sound card with hardwired input and output. Thus, you can record and process output of almost any audio application by almost any other audio application.

---
20) WAV Splitter 1.0.0423
WAV Splitter is an easy-to-use tool for splitting a WAV file into smaller ones. You can pre-listen the WAV file, set start time and end time, split or cut any section of the WAV file. WAV Splitter also splits equal parts either by size or by time.

---
21) CD Catalog Expert 3.6
CD Catalog Expert is a cataloging tool for organizing all kinds of your media collection, including files, folders, CD/DVDs, Movies, MP3s, hard disks, network drives and multifarious removable disks, etc.

---
22) MY IPod Image Extractor 1.0.0.18
The iPod Image Extractor Program allows you to view and extrtact photos from the iPod to your PC ,The extracted Photos will be in theĀ png format.The iPod Photo Database is created by iTunes, and is stored in "/Photos/Photo Database"

---
23) TuneJack 1.0.2
Easy to use iPod utility that walks you through the process of copying songs off an iPod to your PC and optionally add them to iTunes. Playlists, user ratings, play counts and last played date are all preserved when directly importing into iTunes.

---
24) MIDIView 1.1
MIDIView is a lightweight tool for previewing and printing musical scores imported from MIDI files. The software provides multi-track importing of MIDI files. This tool displays running notes during playback.

---
25) Eym Audio Watermark Command Line Utility 1.0
These audio watermark shareware command line utilities embed and retrieve a short data payload within and from audio wav files. For more information visit www.metois.com

---
26) SureThing CD Labeler 5.1.616
SureThing, the most trusted name in CD/DVD Labeling Software, lets you create beautiful color labels for all your CD's, DVD's, and jewel cases. Compatible with most brands of labels and disc printers. Great music support, import playlists, lots MORE!

---

27) Easy audio mixer 1.0.5
Easy audio mixer is a multi track editor audio designed for beginners. With it, you will be creating your own audio projects even if you never used a multi track editor or a mixer.

---

28) Burn4Free 6.4.0.0
Free dvd copy software, Burn audio from MP3, WMA,FLAC, OGG., Easy to use, Copy DVD, copy BLU RAY, Overburning, Print Compilation, Supports CD-R/CD-RW/DVD-R/DVD+R/DVD-RW/DVD+RW/DVD-RAM BD-R BD-RE (SCSI-IDE/EIDE-USB), Multi languages, ISO support

---
29) MY IPOD Cleaner 1.2.0.0
IPod Cleaner is an easy to use tool to to cleane up your itunes library contents. You can remove duplicates using duplicate filter and delete dead tracks from the library.You can also view any track information.

---
30) Blaze Audio RipEditBurn 2.3
Record and edit Wave, MP3s, put music on iPods, CDs, lifetime free support. Record from any audio source that you can plug into your computer. Mix files, crop, adjust the amplification, and add effects such as echo, chorus, reverse, and many more.

---
31) VisiPPT 1.7.38
VisiPPT is a program to convert Microsoft PowerPoint presentations (PPTX, PPT) into video files (AVI, WMV) or Adobe flash files (SWF, FLV) step by step.

---
32) MP3 Joiner 2.7.5
MP3 Joiner can help you to join audio tracks in numerous formats into a single file! MP3 Joiner can join MP3 and other audio files in any combination of formats, codecs and bitrates into a single track. Visit mp3joiner.org for more information!

---
33) Phone Call Recorder 3.4
All telephone conversations will be monitored and recorded after you install the program. Caller ID information will be logged as well.

---
34) moreTunes 2.0
moreTunes fetches data about the music being played on Winamp 5 or Windows Media Player 9. It gets the list of albums, lyrics, covers and a lot more. With moreTunes, you can also repair the id3 tags automatically, rename your files.

---
35) DigiGenius DVD to iPod Converter 3.6.6
Digigenius DVD to iPod Converter is the easiest-to-use and fastest DVD to iPod converter software for apple iPod movie and iPod video.

---
36) LvB's X 2.0
This software works as a composer, not as a tool for composing. That is a fundamental difference! Lvbs X composes music. Lvbs X is VIRTUAL MUSIC COMPOSER.

---
37) VoiceMX STUDIO 4.0
VoiceMX STUDIO 4 is an advanced Text to Speech voice synthesizer software that converts all types of Text to Voice via speech synthesis using a high quality speech engine . It can be used to text notes, documents, e-mails, e-books, web pages etc.

---
38) Desktop RTA 1.0
DesktopRTA is a real-time sound analyser for your PC with many features only found in much more expensive sound analysis software. DesktopRTA provides accurate graphical feedback suitable for amateur hi-fi enthusiasts, A/V engineers / installers and

---
39) MusicColor 2.5
You can playback or create animated, ever shifting, with variable density image-based JMP music visualizations, experience the music's stereo effect visually while an image changes its colors. The Web site has free music visualizations and images.

---

40) MagicScore Maestro 5 5.4
MagicScore Maestro is a music notation software application with extended editing capabilities and internal spell-checker. It features a variety of input methods - virtual keyboard, external MIDI devices, or an extended set of musical symbols.

---
41) Winamp Lyrics Opener 1.1
Winamp Lyrics Opener automatically opens the lyrics of the currently playing song in Winamp.

---
42) Leapic Audio Cutter 2.70
Leapic Audio Cutter is a powerful utility that is able to Not Only cut out pieces of MP3, WMA, OGG or WAV file, But Also convert audio file between WMA, MP3, OGG and WAV formats.

---
43) WRC 1.1
Watch Rally WRC 2008 on WRCStream. WRC racing videos live all in one place. Rally racing directly from the FIA feeds in one place. Fast streaming videos make WRCStream software an essential tool for any rally fan around the globe.

---
44) Helium Music Manager 8
Helium Music Manager takes care of all of your needs when it comes to enjoying your music - playback, tags, album art, sync, and CD burning.

---
45) Auto Shutdown Genius 1.1
Automate your PC Shutdown, power off, log off, lock workstation, hibernate, standby or screen save your computers at schedule date and time, the computer is idle or excessive CPU usage.

---
46) Total Recorder Professional Edition 5.3
Total Recorder records streaming audio from Real Player or Windows Media Player, mic input, line-in input, and DVDs or CD's or and other sound card source.

---
47) JPlayer 1.10
JPlayer is a 100% pure Java mp3 audio player. Apart from the MP3 format, JPlayer also supports AIFF, AU, AVI, GSM, MIDI, MP2, QT, RMF and WAV files.

---

48) MagicScore Maestro 6.201
MagicScore Maestro is a music notation application with extended editing capabilities and internal spell-checker. It features a variety of input methods - virtual keyboard, external MIDI devices, or an extended set of musical symbols.

---
49) HiFi MP3 Splitter Joiner 26.73
HiFi MP3 Splitter Joiner builds mp3 cutter and mp3 joiner in one software. supporting batch MP3 files splitter and joiner into one. It can extract the best parts of various audio files. It can also join the best parts of many mp3 files together.

---
50) ipMIDI 1.0
ipMIDI - A MIDI over Ethernet DriverNo more MIDI interfaces needed to communicate between applications on different PC's. It has a even lower latency than a hardware legacy device and sends over Multicast. No client server hassle, no configuration.

---


Browse Pages: |< 1 [2] [3] [4] [5] >> >|
Top Downloads for all categories