Browse Audio & Mp3 : 101-150 programs listed after popularity
Display by: Popularity | Title | Newest | Oldest
101) Spectrum Analyzer pro Live 2015
Powerful spectrum analyzer that helps you calibrate hardware by running a detailed measurement of both the input and output audio signal

---
102)
Freecord 1.0
---
103) dBpowerAmp Music Converter 11.5
Often called the Swiss army knife of audio, dMC can digitally rip sound from audio CDs to a multitude of formats. Convert from one format to another while preserving ID tags.

---
104) WinXMedia DVD MPEG/AVI/Audio Converter 5.15j
Convert DVD to MPEG1 (VCD),MPEG2 (SVCD), AVI (DivX, XviD, MPEG4, YUV...) Convert DVD Audio to WAV, MP3, WMA, ASF, AC3 Audio. Can Open DVD ,IFO, MPEG/VOB files. Split large video/audio files to volumes

---
105) Rebontek Surround Plugin 5.3
One of the best consumer sound enhancement/improvement/dsp effects software for digital music. It is designed to enhance quality of digital music dramatically.

---
---

106) AudioShell 1.1
AudioShell is a freeware MS Windows Explorer shell extension plugin which allows you to view and edit music file tags directly in Windows Explorer. AudioShell supports MP3, WMA, Apple iTunes AAC/M4A/M4P, MP4, MPC, monkey's audio, OGG and FLAC files.

---
107) CloneCD 4.3.1.6
The ideal CD copy program to make backups of your Music and Data CDs.

---
108) Virtual Deck DJ Mixing Suite 1.00
Mix your favorite tracks together in RealTime and create your own audio Mix CD's. Accepts any audio files from your Hard Drive including WAV,WMA,MP3 and CDA. Features a playlist editor, pitch controls, media search utility, audio CD creator and more

---
109) Video Avatar 4.1.42
Choose the video movie and its part and then crop it for your avatar or userpic. By using Video Avatar you can create original video avatars for your blogs, journals, you can also set userpic in your profile page for any forums, communities.

---
110) Daniusoft Digital Music Converter 2.3.2.1
Daniusoft Digital Music Converter is a great DRM removal and conversion program. It supports these DRM: wma, wmv, m4a, m4b, m4v, asf, aac and plain: wav, mp3, ac3 input formats. The output audio formats include mp3, m4a, ac3, aac,wma, wav, ogg, ape.

---
---
111) 1st Audio Splitter Extractor 1.25
1st Video Splitter Extractor -- wav/mp3 splitter,avi/asf/wmv/mpeg to mp3 converter all in one software.Extract audio from video such as avi to mp3,asf to mp3,wmv to mp3,mpg mpeg to mp3.

---
112) WMAConvert 4.3.3
Convert DRM and non-DRM music files to unprotected iPod, MP3, WMA or WAV formats. Easily and at high speed.

---

113) Guitar Chords and Scales 1.1
The Chords & Scales is a windows software tool designed for musicians and guitarists who want to quickly gain knowledge about the guitar fretboard. Become a Master of Scales, Modes, Chords and Arpeggios with this fully interactive software

---
114) QuickTime Plugin 1.6.2.18
MediaLooks QuickTime Plugin is a free DirectShow filter that enables QuickTime media playback in Windows Media Player, Winamp, BS.Player, Media Player Classic, KM Player and Zoom Player. The original QuickTime Player is required.

---
115) AltoMP3 CD Ripper 5.06
An attractive CD ripper that converts CD to MP3 or wave files and decodes MP3 to wave files easily

---
116) WinXMedia AVI/WMV 3GP Converter 4.03j
WinXMedia AVI/WMV 3GP Converter is a powerful and easy-to-use 3GP/3G2 video converter. With it, you can convert AVI(DivX, XviD, MPEG-4, YUV...), MPEG1 MPEG2 WMV ASF video to 3GP/3G2 video files and play them in your 3GP/3GP mobile phone.

---
117) MP3DJ Broadcast 3.1
Play music without interruptions and Insert playlists with commercials at defined day times, options are: after a defined period of time for example 10 seconds, or at the end of the current playing song.

---
118) AV Music Morpher Gold 5.0.58
An advanced Digital Audio and DJ Workstation includes virtual Easy DJ, multi-format audio player, recorder, tempo and beat changer, studio-quality audio effects, voice remover and extractor, wave editor, versatile converter, ripper, burner, and more

---
119) Absolute DVD Copy 1.3.5
Absolute DVD Copy is an easy-to-use DVD copying software to get perfect duplicates of your favorite movies on DVD or Hard Drive with just a few clicks.The copy engine can fit any DVD video (up to 9.4GB) on to your DVD disc.

---
120) Audio and Video Recorder 2.2
Audio & Video Recorder (short as AVRecorder) makes a complete recording studio of your computer. With AVRecorder, You can record your own music, voice, other sound you hear or video clip.Your recordings are then saved as wav,mp3,wma,avi or asf files.

---
121) Quick Ringtone 1.01
Quick Ringtone is an EASY TO USE Tool that can convert audio to mobile phone ringtone. Currently it can only convert ringtones between MIDI, RTTTL, MOTO Composer, eMelody and iMelody code.

---
122) Audials One Music & Videos 2017
Music, Movies, TV Series, Videos, Podcasts & Radio Stations: Find, Record, Save, Convert & enjoy Anywhere. Music & Video Downloader. Audio & Video Streaming Recorder. Music TV & Podcasts. DVD Ripper. Audio & Video Converter. Media & Cloud Manager

---
123) MP3DJ 3.0
MP3DJ is a Dj Software tool that allows you to playback mp3 files with transitions in between songs very easy to use and stable interface

---
124) PowerKaraoke Plus 1.2.28
PowerKaraoke Plus is a professional CDG Karaoke authoring software. It allows to synchronize a CD+G karaoke song, insert pictures, mix them with text, and add special effects. Three presentation modes (paged, overwrite and scrolling) are available.

---

125) Zortam Mp3 Media Studio 20.45
Zortam Mp3 Media Studio is all-in-one Mp3 application. It has several modules such us Zortam Auto tagger, Mp3 Organizer, ID3 Tag Editor, Mp3 Player, Mp3 Normalizer, BPM Analyzer. With Zortam Mp3 Media Studio you can add cover and lyrics.

---
126) Sprintbit Playlist Manager 7.6
Playlist Manager is an advanced playlist creator & manager. It has a lot of useful features for playlist editing management and playback, including special features like bookmarks, schedulers, statistics. Supports all media and playlist files.

---
127) CopyToDVD 4.0.4
Copy, burn and backup data, photos, audio and videos on CD or DVD. CopyToDVD has you need to satisfy your burning needs. Select the type of project you want to burn, add your files and go. Your burning can be done easily and successfully.

---
128) Smack 1.0.39
Upload to YouTube and MySpace super fast. !SMACK! compresses before the upload. Select the thumbnail image of your video. Simple drag and drop editing. !SMACK! makes uploading video fun! Upload to many SMACKB!Z video library sites. Choose your skin.

---
129) SoundConverter 20080331
SoundConverter is application for batch converting sound files between formats. Just set the options and drag in files or folders to convert. 3 Free conversions. $14 after trial expires. Tags are supported for mp3, ogg and flac files.

---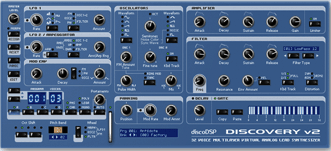 130) Discovery 2.6
Discovery is a Virtual Analog synthesizer inspired by Clavia's Nord Lead for VST hosts featuring: 32 Voice Polyphony (One voice used per triggered layer). 2X Oversampling for hardware quality sounds. More than 3.500 presets in 40 banks.

---
131) DRM Protection Removal 2012.01
DRM Protection Removal. Convert DRM protected music files to plain MP3, AAC (M4A), WAV etc, at high speed and high quality. Enjoy your music and audio files on MP3 Player, CD Player, iPod etc, without any restrictions or DRM protection.

---

132) ImTOO Audio Encoder 6.3.0.0805
Convert between most audio formats and extract audio from most video files. Formats supported include videos such as AVI, MPEG, WMV, MP4, FLV, high-definition (HD) videos such as H.264/MPEG-4 AVC, AVCHD, and audio such as MP3, WMA, WAV, AAC, FLAC.

---
133) Flash to Video Encoder PRO 5.2.41
Convert Flash (*.SWF) Movies to Video AVI WMV MPEG files or DVD. Convert Flash to Images. converts any Macromedia Flash SWF files to video movie AVI or MP4 or ASF/WMV file. Add watermarks, logos and copyright messages to video file. Burn to DVD.

---
134) TriKaraoke MP3+G Player (Free) 1.0
Free MP3+G Karaoke Player and one Karaoke Song Included. Song Manager 1.0 is included to assist in purchasing songs. Player includes Multiplex, Key Changer and Playlist management. Easy to use with many powerful features.

---
135) Create Ringtone 5.1
There are millions of MP3 files available for download from the Internet today. With "Create Ringtone", you can create your own ringtones with a few mouse clicks. Supported ringtone formats: WAV, MP3, M4R (Apple iPhone), QCP (Sprint).

---
136) iWOW 1.00
The iWOW is the ultimate iTunes audio enhancement plug-in for Mac users. It delivers amazing 3D sound, deep bass, and clarity on desktop speakers or headphones. Works with iTunes music, video, and Podcasts on the Mac, using special presets.

---
137) Realistic Virtual Piano VSTi 2.1
RVP is a acoustic grand piano emulation with a breathtakingly rich and realistic sound. Particular care has been taken in the reproduction of the original realism and touch response of a Kawai Grand Piano.

---
138) Allok MP3 to AMR Converter 6.0.34
Allok MP3 to AMR Converter software is a powerful AMR Converter that lets you convert your audio files to and from the AMR format used by your cell phone. You can convert from WAV, MP3, OGG, WMA, AC3, AMR, 3GP, MP2, to AMR format.

---
139) dj SWAKKE Bronze 1.0
Simply the best Audio and Light system. For DJ's, Discotheques, Bars, Nightclubs, etc. The first fully automated system for your sound and lights!

---
140) AMPHIOTIK ENHANCER LT [Winamp] 1.12
AMPHIOTIK ENHANCER LT (LiTe) for Winamp is an easy-to-use yet powerful 3D-Audio system, for novice users, which processes standard stereo audio and converts it into an enhanced, rich 3D stereo output, increasing dramatically the listening experience.

---
141) X-Copy Professional 1.1.3
X-Copy Professional is the best tool to make backup copies of your valuable original discs.

---
142) MusicMatch Jukebox 8.00.0084
An integrated digital music management software tool.

---
143) Text to Speech MP3 with Natural Voices 1.71
Text to speech, text to mp3, batch convert text files to MP3 files. Integrate with MS Word, WordPerfect, Internet Explorer, Windows Explorer. Read aloud any text. AT&T natural voices (US, UK, German, French, or Spanish) provide you excellent voice.

---
144) Sound Normalizer 3.99.5
The Sound Normalizer reduce, improves, regains a quality and a file size without losing ID3 tags of Mp3, FLAC and Wav (PCM 8, 16, 24, 32 bits, DSP, GSM, IMA ADPCM, MS ADPCM, AC3, MP3, MP2, OGG, A-LAW, u-LAW) files.

---
145) ToneTester 1.0
ToneTester is a Macintosh application that tests hearing. Specifically, it looks for offsets in how each of a person's ears hears pitch (the formal term for this is "binaural diplacusis" or "interaural pitch difference").

---
146) MP3-tag 5.91
mp3Tag is a music tag editor for MP3, WMA, MPC,OGG, APE, MP4 files with great features, like an automated search for lyrics/pictures, Amazon/FreeDB support. The program comes with batch processing options for working with large music file collections

---

147) Audio Converter 3.3.1
Audio Converter is specially created for you to be able to convert your audio files in the way you wish, to change from Codec to Mp3, WMA, WAV, Mp4, AAC, AIFF, FLAC, M4A, FLV, OMA etc.; to change the size of the file, the audio frequency...

---
148) Ashampoo Burning Studio 6 7.10
Now with Video, Bootable Discs and MP3 Ripping.

---
149) MediaWidget - Easy iPod Transfer 6.0.63
MediaWidget | Easy iPod Transfer - is an easy way to Transfer iPod contents to/from your computer or transfer from your iPod directly into iTunes. Transfer Music, Photos, Videos, Playlists, Playcounts and more from your iPod back to your PC.

---
150) Magic FLAC to MP3 Converter 3.72
Magic FLAC to MP3 Converter allows you to convert FLAC files (Free Lossless Audio Codec) (.flac , .flc ) to MP3 and WMA, WAV files and easy to use!

---


Browse Pages: |< « [1] [2] 3 [4] [5] [6] [7] » >|
Top Downloads for all categories